Psion Responds about Netbook Trademark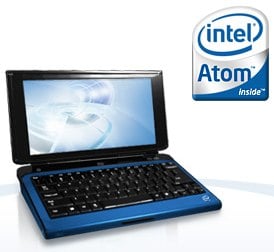 Back in the day (yeah, it was so long ago, like not even a year) when the machines everyone now calls Netbooks began rolling out like ants out of a mound smelling sugar, many of my posts about these devices contained what I thought at the time was a humorous jab at the confusion over naming conventions. I would start a post with "such and such a company has released their ultra-mini-low-cost-netbook, or whatever you call them." Turns out there was some irony to be had in all of that.
Last week we got word through jkOnTheRun that Psion Teglogix, the company that owned the trademark on the term Netbook and Netbook Pro was issuing cease and desist letters to some fan sites that were using the now familiar moniker. Tonight, Kendrick reports that he's gotten a response from Psion and he's published it on jkOnTheRun.
The upshot, as I, and I think most resonable people suspected, is that Psion is saying that they weren't going after blogs or fan sites, but going after concerns that were seeking to profit from using the Netbook trademark.   As Kendrick points out, the response from Psion clears up a few things and leaves a few questions hanging in the air. A site that might have generic ads placed on it using the term Netbook could potentially be open to receiving a C&D letter, but we'll have to see how this all plays out on a larger level.
What's more interesting at the moment though is the section of the letter that says the following:
There is of course a legitimate and important question centered on the extent to which corporations can influence or control the language we ordinarily use.   If your readers are really interested in the words they use, then perhaps they might give some careful thought to why they started using the term 'netbook' in a generic way in the first place. If you're aware of substantial 'generic' use that pre-dates Intel's 2008 marketing efforts to promote its Atom processor, I'd be interested to learn of it.

Incidentally, we have started to receive direct responses from recipients of our letters.   So far, all have agreed to use a different term. I think that's because, when you really look carefully at the merits of the situation, both legal and ethical, Psion has a fair point.
That raises a number of questions now that the term Netbook has more than crept into the lexicon. Certainly we've got Mini's, Mini-Notes, Eee PCs, Winds, and Aspire Ones but will these small portable computers be genrically called in the future?   Is that important? A quick glance at the popular online retail and gadget sites this evening shows the term Netbook prominently featured in descriptions. Searching on these sites using the term Netbook calls up up the various models from various companies. Another quick glance at product pages from leading manufacturers shows some using the term Netbook and others not.
The big question that goes unanswered in the attorney's response (logically) is what will Intel have to say about this. Intel has been a big part of the muscle in pushing Netbooks with their Atom platform and the marketing that has accompanied it. Indeed Intel's site proudly proclaims that "It's not a notebook; it's a netbook." How will Intel continue to brand the category and will the other manufacturers follow suit to avoid a suit?
Let's just hope the legal fees don't drive the costs up too much.

As an Amazon Associate I earn from qualifying purchases.