Put a Tablet in a Customer's Hands or Go Home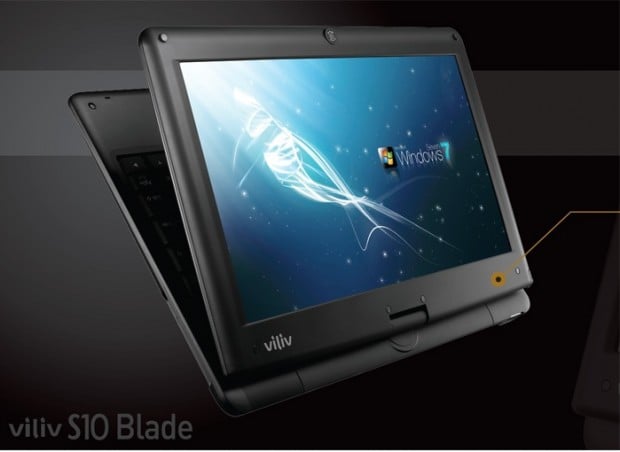 Maybe the folks at Viliv have been paying attention where other Tablet manufacturers historically have not. According to a press release (after the jump) announcing the N5 UMPC and the S10 Blade Tablet PC both will be available at unnamed brick and mortar retail outlets, as well as the usual array of on-line sources. The key here is getting these devices into stores in ways that customers can go hands on.
Why? Oh, the sheer fact that they are touch centric devices meant to be used in your hands might have something to do with that. I'm one of those who think Microsoft and OEMs dropped the ball at the Windows 7 release by not having touch capable devices ready to go in retail outlets. Of course I've also yelled to the heavens about this when Tablet PCs were in their early days as well. Yes, we have seen some attempts at putting these devices in retail channels on the street, but they have been half-hearted at best, and if ever there was a reason for stamping FAIL on an idea and execution, that strategy was one. A recent example of this is with the Archos 5 Internet Tablet in Radio Shack. Every Shack I visited had those things so locked down, you couldn't experience the device if you wanted to.
No matter what Mr. Ballmer announces at his keynote tonight, or no matter what cool Tablet-like devices other OEMs come up with, if they can't figure out a way for customers to actually go hands on with them in stores, they have already ceded the battlefield to Apple, its mythical Tablet, and its retails stores before the game even begins.
So, Mr. Ballmer and Tablet OEMs, who wants to change history here? Or are you just planning on being a wanna be?
viliv Expands its Mobile Internet Device Product with the Go-Everywhere PC "N5" and Multi-touch Tablet PC "S10 Blade"

The viliv N5 features a 4.8″ Touch Screen, Intel®Atomâ"¢ Processor and Windows® 7 OS, and QWERTY keyboard

The viliv S10 Blade features a 10.1″ Multi-touch Screen with High Resolution(1366×768) and Swivel Display.

Las Vegas-Jan 6, 2010 – viliv (Yukyung Technologies Corporation), a leading Mobile Internet Device manufacturer, today announced two new Mobile Internet Devices, the N5 and the S10 Blade. The two products made their debut at PEPCOM's Digital Experience in Las Vegas and will be on display during CES 2010 at the viliv booth, #30349 of the South Hall 3 Upper Level.

Aimed at the go-everywhere PC users, "N5" combines usability and productivity by delivering enhanced performance, light portability (weighing just 399g/0.88lbs), extended battery life and full QWERTY keyboard. With integrated GPS navigation and fueled by the Intel® Atomâ"¢ processor (1.33GHZ), N5 is a non-compromise, high-performance mobile computing device that offers full PC functionality and optional 3G HSPA or WiMAX connectivity for mobile professionals as well as for micro-bloggers.
viliv also unveiled the S10 Blade with Multi-Touch Convertible Tablet form factor and with multiple ways to provide input including a full QWERTY keyboard, Multi-Touch and stylus. The S10 Blade delivers up to 10 hours of battery life and weighs only 1.21Kg / 2.67 lb for the best mobile computing experience. The S10 Blade offers various connectivity options including integrated 4G mobile WiMAX, and 3G HSPA. Consumers can get a seamless Internet connectivity at true broadband speeds — at home, in the office or on-the-go.
"Since pioneering the MID (Mobile Internet Device) category with the introductions of S5, X70EX and S7 over a period of less than 6 months, viliv has been unwavering in its commitment to the long-term growth and development of this fast-growing mobile computing product market segment, said Dr. Seung-Jin Yoo, Vice President, Yukyung Technologies." "We have made a strong showing in the global marketplace. With the introductions of N5 and S10 Blade, viliv further strengthens its leadership position in the Mobile Internet Device market segment. Viliv N5 and S10 Blade continue to deliver high performance and amazing mobility with the Intel® Atomâ"¢ processor.

"The Intel Atom processor represents a hallmark in technology innovation, enabling users to gain unhindered access to the rich, visually-compelling Internet in handheld devices," said Pankaj Kedia, director of global ecosystem programs in Intel Corporation's Ultra Mobility Group. "Yukyung has demonstrated the capabilities of the Atom processor with an exciting range of products – the viliv N5 and S10 Blade, the company's latest additions, will bring the power of the Internet to the hands and pockets of delighted consumers around the world."

N5 and S10 Blade can be purchased through a variety of resellers including Amazon, Newegg, Buy.com, B&H Photo, PC mall and more and will also be introduced through brick and mortar stores.

viliv MID feature Highlights

viliv S10 Blade : Convertible Multi-Touch Tablet

First 10″ Swivel, Multi-touch screen with Windows™ 7 OS applied mobility tablet PC
Extraordinarily long battery life and 2.67lbs weight for the best mobile computing experience
Enjoy the full capability of your favorite web apps anytime with integrated 3G HSPA

• Intel® Atom™ processor Z530 (1.6GHz) / Z550 (2.0GHz)

• Windows® 7 Home Premium

• 10.1″ HD LCD (1366 x 768, WXVGA) / Swivel / Multi-Touch

• SSD capacity: 32GB, 64GB, 128GB

1GB DDR2 SDRAM 533Mhz
• WiFi IEEE 802.11b/g

• Bluetooth 2.0+EDR

• HSPA/TD-SCDMA/EVDO/WiMAX Connectivity options

• Camera

• 2 USB Host, 1 USB Slave

• SDHC, Headphone-out, Mic, Stereo Speakers

• D-Sub, Multi I/O(Composite / Component / S-Video)

• Keyboard : 84keys total (Function 34keys)

• 10 hours max battery life (7 hour movie playback)

Dimensions: 260(W) x 185(L) x 17~26(H)mm / 10.23(W) x 7.28(L) x 0.67~1.02(H)inch
Weight: 1.21Kg / 2.67 pounds

viliv N5 : Productivity on-the-go – Revolutionized

N5 completes the productive blend of usability and portability.
It's so small and light that you can conveniently hand-carry anywhere, Anytime!
Always connected Social Networking and Micro Blogging

Intel® Atom™ processor Z520 (1.33 GHz)
Windows® 7 Starter / Home Premium
4.8″ WSVGA (1024×600) with Touch Screen
32GB SSD
1GB DDR2 SDRAM 533Mhz
WiFi IEEE 802.11b/g
Bluetooth 2.0+EDR
HSPA/TD-SCDMA/EVDO/WiMAX Connectivity options
GPS Sirf Star3
1.3M Pixel Camera
Optical Mouse
1 USB Host, 1 USB Slave
Micro-SD, Headphone-out, Mic, Stereo Speakers
QWERTY keyboard 63keys total (Function 34keys)
Up to 5 hours of battery life
Dimensions: 172(W) x 86(H) x 25(T)mm / 6.77(W) x 3.38(H) x 0.98(T) inch
Weight: 399g / 0.88 pounds

About Yukyung Technologies

Based in Korea, Yukyung Technologies is a worldwide leader in the Mobile device and communications market sector with strengths in technology development, product design, manufacturing quality, as well as solution design and implementation. Yukyung Technologies was founded in 1999 and has developed viliv brand of PMP, Navigator in 2005 and now it's one of the best and leading Mobile Internet Device Manufacturer in the world.