Qik and Ustream Video Now on iPhone Without Streaming
Video is one of the big selling factors for the iPhone 3GS. But yet, in another in a long line of video disappointments with video and streaming on the iPhone, Qik finally launched its video app today. You remember Qik. It's the popular video streaming app that some use to record and stream themselves or events live. The streaming is available on other mobile platforms, (most notably Nokia), but as is the case with all things having to do with video and streaming on the iPhone, there's no app for that.
The Qik app works as advertised but of course not over 3G. The company says it has submitted an update that would allow that but it will be a cold day in some very warm place before we see that approved. Qik takes your video and immediately uploads it to its servers where you can view it or do what you do with most video once its in the cloud. You can also share it to other Qik supported services like Facebook, Twitter, and YouTube. You can also have the location of your video uploaded with the video. Getting the video online and in the cloud works as advertised.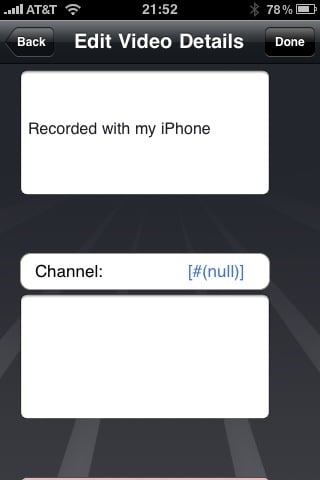 The same can't be said in my case with Ustream. The Ustream app insists on you filling out each and every field it offers before you upload. But in my case, (and in others I've seen) the Channel field defaults to [*(nul)] and if you try to change it there or in the settings window the app crashes. The field listed below the Channel field doesn't even indicate what sort of information it requires. Go figure. Ustream's web support is pretty mum on the subject. In fact, I don't see any indication of what a channel is on the site. You can't even find a listing for iPhone in their suggested help topics or FAQs. There's one person who has asked the question in the forums and it has gone unanswered. Email queries from me have not yielded a response. This indicate to me that it is either a random problem that not every user is experiencing, or Ustream just doesn 't have its act together. So, at the moment the Ustream app is a big fail for me.
It's unfortunate for both of these companies and users. The promise of these apps is live streaming, and in my view, the iPhone looked like it was going to be the perfect live streaming video device. But then I guess AT&T had something to say about that. In essence you can do the same thing with the iPhone's native video recorder that you can do with these apps, except send video to either Qik or Ustream.

As an Amazon Associate I earn from qualifying purchases.