Qi's New Wireless Resonance Charging Could Give Smartwatches Big Boost
While we saw the introduction of a few smartwatches in 2013, the efforts did not take off as expected due in part to high price points, complicated UIs, and anemic battery life. However, that could change this year if Qi's new wireless resonance charging standard hits the market and wireless charging pads using the charging standard become embedded into tabletops, surfaces, and even laptops.
READ: Battle for Wireless Charging to Heat Up in 2014
Qi is already a big player in the wireless charging market as its technology has been supported by technology companies like Verizon Wireless, Google on the Nexus series of smartphones and tablets, and Nokia's Windows Phone devices. However, for Qi wireless charging to work, users must set their phones precisely on a charging pad. Although this is far simpler to do than fumbling with a micro USB charging cable to plug into your phone in the dark at night when you're checking your device on a nightstand, it still is a limitation of the charging protocol.
To combat this shortcoming, Qi's parent the Wireless Power Consortium had announced at the Consumer Electronics Show a new resonance charging protocol.
With wireless resonance charging, users can now charge their Qi-enabled device without requiring a direct or precise contact to the charging pad. Instead, the transmitter is able to charge a device within 18mm of the charging pad, which is just under 2 mm or less than an inch.
Not 0nly can there be distance between the wireless charging and device with resonance charging, but Qi will also work through materials and obstructions. Engadget showed an image of Qi working when a book or notepad is placed sandwiched between the phone and wireless charger.
While this distance doesn't sound like a lot, it could work if Qi's wireless resonance standard is embedded into surfaces like a tabletop for when users are writing notes at a conference room table or on the wrist rest area of a laptop or Ultrabook. This way, owners of smartwatches, for example, could be doing their normal work while still wearing their wearable computing technology and have their devices recharged at the same time.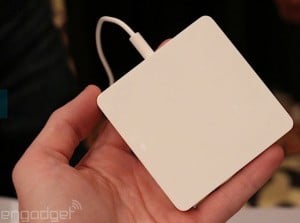 According to a report on Engadget, a specific release was not disclosed by WPC and Qi, but the consortium is saying that resonance charging is a little bit less efficient than normal inductive charging of today. With inductive charging, users can recharge their phones at about the same rate as if they plugged their devices into a wall outlet. With resonance charging, this falls to about 65 percent efficiency, which means it ould take a little longer to recharge a device. The upside is that you can still wear the device while this is happening and you can still benefit from the features or values that these wearable devices provide while it is charging.
We've seen Apple patenting similar wireless proximity-based charging for devices in the past that offer this same benefit as Qi's resonance charging. Resonance charging, especially if Qi and other protocols and standards can increase the distance between the charger and device, could become an enabling technology for wearable computing. Wearable devices like Google Glass and smartwatches consume a lot of power and the benefits of these devices are eliminated while the device is not being worn and sitting on a charger. Resonance charging can bring back these benefits while charging is in effect.

As an Amazon Associate I earn from qualifying purchases.