Quad-Core Huawei MediaPad 10 to Retail Under $500
It looks like Huawei's quad-core 10-inch MediaPad with a full 1080p HD display will be priced at under $500 when it arrives in August. The slate was initially announced earlier this year alongside Huawei's quad-core smartphone at the Mobile World Congress trade show.
The MediaPad 10 will be an ambitious effort for Huawei, which had in years past been known for budget devices, as this Android tablet will feature high-end specs, such as a 1080p resolution display. Additionally, the slate will feature–a first for Huawei–the company's own ARM processor design in the form of the quad-core K3V2 chipset.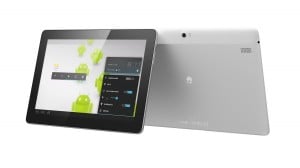 The pricing information was revealed by Huawei's head of the Consumer Business Group and Senior Vice President of Huawei Technologies Yu Chengdong, who stated that the slate is expected to debut for under 3,000 yuan, which equates to about $470 using today's exchange rates, according to information from Unwired View.
It's unclear if Huawei will bring the slate to the U.S. market. The company has been selling its 7-inch MediaPad with a 720p HD display, solid unibody aluminum build quality, and 4G connectivity through T-Mobile USA and later on AT&T Mobility.
Specs for the device include Android 4.0 Ice Cream Sandwich, a 1920 X 1200 Full HD IPS touchscreen display, 8-megapixel rear camera, quad-core 1.5 GHz CPU, 1.3-megapixel front-facing camera, and HSPA+ support–also considered 4G in the U.S. The slate will be just 8.8 mm thick.
The slate is expected to have 8-9 hours of battery life playing 720p HD videos and about 6-7 hours of playback time when running 1080p HD content.
The Huawei MediaPad 10 will be competing with Apple's iPad, Google's Nexus 7, and Samsung's Galaxy Tab tablets when it arrives on the market.