Qualcomm & Wilocity Demo Wireless Display Tech at CES 2013
Qualcomm and Wilocity demoed a new tri-band WiFi capable of powering two external displays and connecting peripherals without any wires during Showstoppers at CES 2013.
The new tri-band WiFi capable WiFi chips are already available in the Dell Latitude 6430u, a business Ultrabook from Dell, and are planned for more notebooks later this year.
Read: CES 2013 Coverage
The technology is enabled by a partnership between Qualcomm Atheros and Wilocity using 2×2.11n Bluetooth and 60 Hz WiGig which sends data to the monitors and pulls it down at impressive speeds.
The demo above shows a remote display setup with an Ultrabook driving two 1080p HD external displays without any wires, with the use of a Wilocity  dock. The demo shows one video playing on the notebook monitor, and part of each external monitor without any lag. The demo included tow videos playing on each 1080P monitor, where we saw soem lag on the video loop running on the monitor to the right of the notebook.
With this technology, the displays and any peripherals connect without any wires, and the computer shows that the displays and items like a USB drive are connected as if they were plugged directly into the notebook.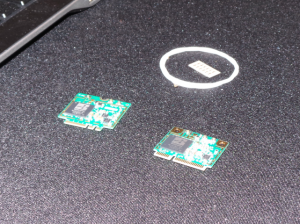 Wilocity and Qualcomm see this technology helping manufacturers deliver thinner and lighter notebooks, which don't need multiple display out ports to connect to external displays and accessories.
What's impressive is that this technology is available in a product consumers can buy today. The Dell Latitude 6430u is aimed at business users, but available to the general public.  We'll likely see similar solutions arrive as part of other business notebooks before consumer models due to the need for a dock. Many home and student users don't purchase a dock with their computer, but business users and IT departments often include the essential accessory in their purchases.

As an Amazon Associate I earn from qualifying purchases.