Qualcomm Toq Coming Dec 2nd for $349.99
Qualcomm jumped into a the smartwatch market announcing the release of their Qualcomm Toq smartwatch on December 2nd. This space started heating up this fall with rumors of watches coming from Google and Apple, with what everyone's calling the iWatch now. Other companies already offer a smartwatch, including the Samsung Galaxy Gear, which only works with a few Galaxy phones and Pebble Smartwatch.
Qualcomm first announced their Toq smartwatch around the time that Samsung released the Samsung Galaxy Gear, which sells for $350. This followed the $150 Pebble Smartwatch, which launched via Kickstarter but went mainstream through places like Amazon and Best Buy. We don't know the price of the Google or Apple watches. We don't even know that those two company's will offer a smartwatch.
https://youtu.be/YzTrqifCOhs
The Qualcomm Toq comes with some interesting features including:
Qualcomm Mirasol low-power display which should help with battery life since it doesn't come with backlighting.
Display bright enough to see outside on a bright sunny days.
Touch screen that turns off after a period of no use that will also help with battery life.
No physical buttons, camera or microphone which cuts down on the methods of interacting with the Toq.
Bluetooth only with no NFC or Wi-Fi.
Accelerometer so that it can vibrate to give users notifications.
2 days of battery life.
Charges through the carrying case that doubles as a stand.
While the Qualcomm Toq smartwatch seems like an interesting alternative to the Samsung Galaxy Gear, it offers fewer features than the Pebble while costing more than twice as much. The Toq also looks smaller than the Galaxy Gear, but comes with the same style of wristband, which means users with thick wrists may run into trouble. If anything happens to the band, the user can't easily replace it like they can on the Pebble.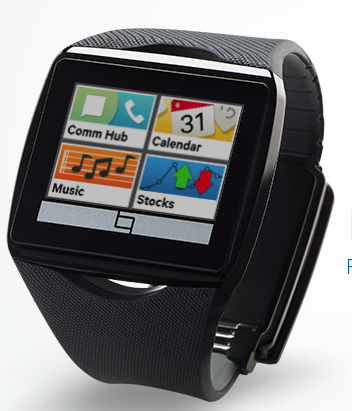 We like that Qualcomm entered this competitive space. More competition usually benefits consumers. Watch wearers will find this entry interesting, but will they consider it interesting enough to make the watch a consumer hit? No one else in this space has yet. At $350 its hard to see how the Qualcomm Toq will compel average users enough to buy.
We're still waiting for a company that combines the right mix of features, price and style to make a successful smartwatch.

As an Amazon Associate I earn from qualifying purchases.