Qualcomm's 2.5GHz Quad-Core Processors Get Detailed, Due in 2012
Not to be outdone by Intel's announcement yesterday, Qualcomm has made an announcement of their own at the Innovation Qualcomm event in Istanbul where the chip maker outlined plans for its next-generation 2.5GHz quad-core processors that will be available to manufacturers by the end of 2011. That means that yes, there should be 2.5GHz Snapdragon quad-core processors on the market for consumers at some point next year.
Qualcomm detailed its new S4 chip class and the specs are pretty darn impressive. It will be available in up to 2.5GHz in single, dual and quad-core, it will offer a next-generation Adreno GPU, 3D, 1080p, and it will support both 3G and 4G LTE devices.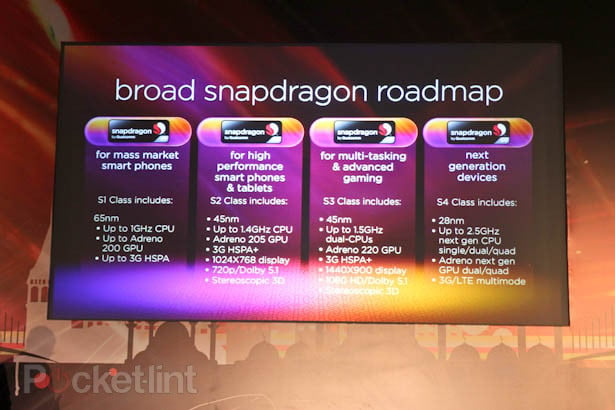 If all goes according to plan, we should see devices utilizing these chips show up at the Mobile World Congress in February. But who knows, maybe we'll even see them pop up at CES in January.
After all, we're expecting to see NVIDIA Kal-El quad-core tablets this year and some Kal-El powered phones in early 2012, so it wouldn't be shocking to see Qualcomm roll out some devices to publicly do battle.
Who's excited?
Via: Pocket-lint