Quanta smartbook and Qualcomm tablet concept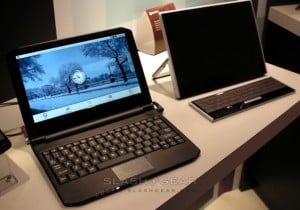 Slashgear has the scoop on a new smartbook prototype from Quanta and a tablet concept from Qualcomm.
The smartbook uses Qualcomm's Snapdragon chipset for cool operation, which means no fan needed. The keyboard offers one-touch access to the homescreen with three customisable panes, as well as a slide-out programs menu for apps and controls.
The Qualcomm tablet is just a concept, not a functioning prototype. The hybrid design includes a detachable keyboard and mouse and integrated stand, so it can function in hand or on a desk. Unfortunately, such a design does not lend itself to lap use like a convertible would. However, Quanta is reporting ongoing positive response to the design, which is encouraging. Both would offer all-day battery life and the usual wireless trifecta of wifi, Bluetooth and 3G. Sizable gallery of both, plus a video demo, available at Slashgear.
Via jkkmobile