Quantum Break for the Xbox One Revealed 
We're just two days into Gamescom 2014, we're already learning almost everything we ever needed to know about Quantum Break, the action game that Microsoft is hoping will boost sales of its Xbox One entertainment console when it arrives sometime in 2015.
All this week, Microsoft and Remedy Studios have been discussing the final details of Quantum Break, just as the two promised they would shortly before this year's E3 2014 Xbox Media Briefing.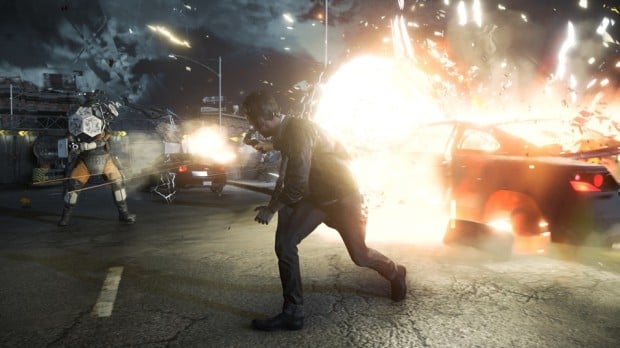 Story wise, the mechanics seem to match what early reveal trailers showed. In Quantum Break users will play as a man who gains powers to manipulate time after a government test goes wrong. During the game he's able to use his new time control abilities to his advantage. At one point in the live gameplay scene the player stops time so that he can fire more than one bullet and have them impact an enemy at the same time. He can also use time to hide quickly.
In Quantum Break, time manipulation is an advantage, but it is also a curse. During the gameplay trailer Microsoft showed off on stage at its Gamescom 2014 Xbox Media Briefing, the player was actually caught in a time anomaly. According to those showcasing the game on stage, breakdowns in time can happen at any point. It's the players job to safely traverse those break downs in time and make it out alive. In effect, Remedy is making it clear to players that time manipulation is serious business.
Today, at Gamescom Remedy Studios talked more about the interactive elements it teased for the game. Most games have linear stories, that is to say that when users are playing there's a beginning, middle and an end. With Quantum Break, Remedy is rethinking the linear story. Like other games before it, players will have to make choices that affect future events in the game's story line. Remedy is also splicing live-action television scenes into the game based around each choice the player makes, according to sources who spoke with Polygon. A live action scene for every choice a user makes is being filmed and spliced into the game.
Read: Microsoft Shares Quantum Break Release Date Window and Videos
If it works as described, Quantum Break will play less like a linear video game and more of like an interactive story. Whether users will appreciate that remains unclear, but if Choose Your Own Adventure books are somewhat popular it's hard to imagine that gamers won't find what Remedy is trying here a bit cool. Remedy itself has experimented with using different story-telling techniques to make single player experiences more enjoyable.
Alan Wake's story mode played more like an episodic cable television show. Each section had a beginning, middle and an end. Every time a user reached a new chapter the game would show them where they were in the story and tease what was coming next. Most of the Xbox 360 users who played the game seemed to react positively to those "Last time on Alan Wake" sequences. Unfortunately, Alan Wake didn't exactly sell terrifically well.
Quantum Break will be exclusive to the Xbox One when it launches sometime in 2015. In short, that means Microsoft is hoping that Quantum Break will help it lure gamers into upgrading to the Xbox One. As of yet, there's no firm release date for the game but its hard not to imagine that Microsoft won't use it to shore up Xbox One sales sometime in the middle of the year. Halo 5: The Guardians will likely launch sometime next fall, leaving Microsoft free to use Quantum Break as an Xbox One attraction at any point earlier than that.
Quantum Break will likely cost $59.99 when it does arrive, a live action show comprised of all the live-action television footage will be included in the purchase price of the game.
5 Xbox One Games to Buy in 2014
Call of Duty: Advanced Warfare
This year's edition of Call of Duty, Call of Duty: Advanced Warfare, promises to be a huge departure for the series. To be clear, players objectives for the most part remain the same. Players will still be tasked with killing the enemy as fast as they can. That being said, Sledgehammer, the game's developer, has put its own stamp on the franchise.
This year's game will come loaded with strange new gadgets. There's a new directed energy weapon for when you really need to take down an opponent with just one shot. New weapons will also give players the ability to temporarily see through walls when they need to. This being a game about war from the future, there's also plenty of outlandish flying vehicles and exoskeletons that gives players the ability to climb walls and super strength.
Read: Amazing Video Shows Cool Gadgets Coming in Call of Duty: Advanced Warfare
Call of Duty: Advanced Warfare launches on November 4th. It'll be available on the Windows PCs, the PS3, the PS4 and the Xbox 360 in addition to the Xbox One. Xbox owners will get access to special downloadable content before anyone else.