Quantum Break Release Date, New Trailer Revealed
Microsoft and video game developer Remedy Entertainment are finally giving excited Xbox One owners another look at its hotly anticipated Quantum Break game and the television show that'll accompany it on launch day. The two are also sharing the Quantum Break release date.
Microsoft unveiled the new Quantum Break trailer during its Gamescom 2015 Xbox Media Briefing. Like the Electronic Entertainment Expo in June, Gamescom brings together developers and platform makers to show off the latest new titles and hardware upgrades.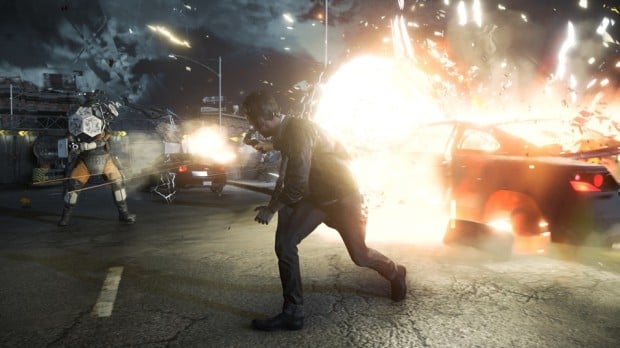 This new Quantum Break trailer is called "Time is Power" and it's meant to showcase the game's underlying time manipulation mechanic and how it'll be used in combat. In the trailer we see Jack, who is played by actor Shawn Ashmore, running through a masked army of enemies.
The battle starts with Jack slowing down time as he beats one armed guard in the face. He then aims his gun at a second attachment of enemies, but freezes them before firing on them to protect himself from enemies. Jack doesn't just freeze enemies, he slows down their bullets too. Through time manipulation he also quickly moves from one area to another faster than if time couldn't be used as a weapon in the game. Presumably, users will get more time abilities as they progress through Quantum Break, but neither Remedy nor Microsoft have confirmed that.
It's at this point in the trailer that Microsoft gives gamers their first look at the live-action Quantum Break television show that's launching along with the game. Microsoft says that the show is tightly woven with the game's narrative, creating a one-of-a-kind experience. The idea seems very much like what Remedy tried to do with its last game for Microsoft, Alan Wake. Alan Wake's story was broken up into individual sections complete with their own arch in the same way a serialized television show.
Besides the new trailer, Microsoft finally revealed the Quantum Break release date. On April 5th the game will launch exclusively on the Xbox One, integrated television show and all. That new date places in firmly in the spring of 2016, which will definitely come as a disappointment to some. Microsoft and Remedy originally planned to launch Quantum Break sometime this fall. Microsoft officially delayed the game after Sony announced that Uncharted 4: A Thief's End for the PS4 wouldn't make it to store shelves until early in 2016 too.
Microsoft hasn't revealed the different versions of Quantum Break that it'll offer, but a standard version of the game has to cost $60. That's the standard price for any mainstream title available on the Xbox One.
Microsoft is hoping that Quantum Break will put the spotlight on its exclusive array of games. The title is another hallmark of Microsoft's new strategy to win gamers over. Rather than spend tons of money on content deals with other companies, Microsoft is betting that having a robust first-party games line-up will help it pick up users over time. The bet could pay off, Sony's near-term line-up relies mostly on maps and content. For example, the PS4 will get new Call of Duty Black Ops 3 add-ons a month before the Xbox One does. The series' publisher, Activision, had a similar agreement with Microsoft that expired this year.
Microsoft hasn't yet said if Quantum Break will also be available for Windows 10 users through the Xbox app.
It definitely won't be coming to the Xbox 360 since Microsoft hopes that the title attracts users to the Xbox One. The Xbox One costs $349.99 for a model with 500GB of storage and an older wireless controller that doesn't have a headset jack built into it. $499 gets users an Xbox One with a Kinect sensor. $399.99 gets users an Xbox One with the upgraded wireless controller and 1TB of storage instead of 500GB.