Quantum Break Release Delayed Into 2016
Sony can breathe a little easier knowing that its internal studios aren't the only developers missing the ever-popular holiday shopping season. This week video game developer Remedy confirmed that Quantum Break, an exclusive for Microsoft's Xbox One platform, wouldn't be arriving this year.
Remedy confirmed the delay of Quantum Break in a post on its news blog. Inside that post Microsoft's Shannon Loftis indicates that the company moved the game in its line-up so that it'd have more for gamers in 2016. "With so many Xbox One games launching this year, moving Quantum Break to 2016 extends our incredible portfolio into next year with a monster new IP." Loftis is head of publishing for Microsoft Studios, the part of Microsoft in charge of delivering first-party games for the Xbox One and Xbox 360. Same Lake, Remedy's creative director thanked fans of the studio for their patience. He also said that the company will take the extra time to "polish" and "fine tune" the game.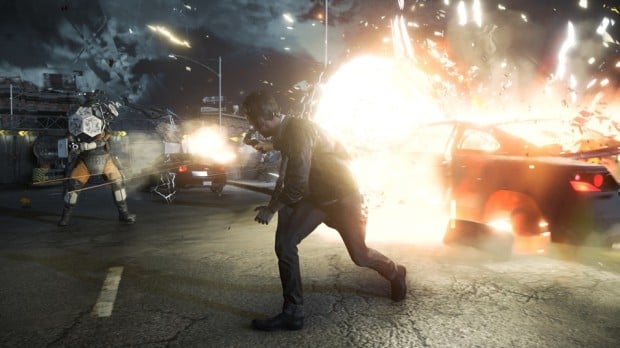 Rumors of a delay for Quantum Break swirled for weeks ahead of the announcement. Most of them centered around Quantum Break being too far from completion for a 2015 launch to be viable. Lake's comments don't confirm that, but do confirm the studio is still actively working on the game despite the change in release.
Excitement for Quantum Break was palpable ahead of this year's Electronic Entertainment Expo in June. Many expected that we'd finally see some in-depth game play and details ahead of its fall release. Quantum Break focuses on the lives of three people who are able to alter time and use it as a weapon. One of the three people with the power founds his own firm and uses that company to hunt down the other two main characters in what's supposed to come off as a college and education focused city in the New England region.
Other than Halo, which still has a sequel coming this year, Quantum Break is one of the few games directly tied to the Xbox One. Microsoft revealed the game at its Xbox One Revealed event back in 2013, citing it as one of the amazing new IPs it hand in store for Xbox 360 users who updated to their latest console. Quantum Break is also one of the first games to include a digital series integrated with the main story, another thing some users might have been excited to experience as soon as possible.
It is worth noting that footage from Quantum Break hasn't exactly been plentiful, another hint at delays in the game's development.
To be fair, Microsoft's explanation for the new Quantum Break release date does mesh with the company's release schedule. Besides Halo 5: Guardians, Rise of Tomb Raider is also coming exclusively to the Xbox One this fall. By comparison, Sony's Uncharted 4: A Thief's End was delayed into 2016 too. Plenty of games developed by other studios are coming to both the Xbox One and PS4 this holiday, but exclusives are light for the PS4. Since exclusives sell consoles, Microsoft stacked its holiday lineup to best PS4 sales. With Uncharted 4 gone, it's possible the company simply no longer felt it needed Quantum Break for the Xbox One to be a success this holiday season. Halo 5: Guardians is expected to be a smash hit thanks to big changes to its multiplayer. Rise of the Tomb Raider isn't a Microsoft-made game, but is under what appears to be a launch exclusivity agreement for the console.
Video game retailer GameStop isn't yet taking pre-orders for Quantum Break. Presumably, it will when Microsoft and Remedy share a hard date in 2016 for the game.

As an Amazon Associate I earn from qualifying purchases.