Quick Review: Verizon's 4G LTE Network Burns Rubber!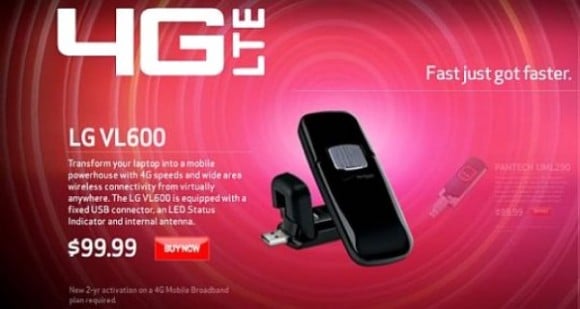 Blazing fast speeds and modest promises help to boost Verizon Wireless's claim that it is the fastest, most advanced 4G network in America. At its 4G LTE press conference, Verizon Wireless was modest about boasting about its 4G network. The carrier says that it is on track or even ahead of schedule in its network launch, and is meeting and exceeding its expectations for its 4G network performance.
According to Verizon Wireless, its 4G LTE network should perform at 5-10 Mbps on the downlink side and between 2 and 5 Mbps on the uplink side, though in our speed tests I have consistently outperformed the quoted numbers with my LG VL600 4G USB data modem, getting around 15 Mbps on the downlink and up to 5 Mbps on the uplink in highly congested metropolitan areas such as San Francisco and Los Angeles, California where rivals such as AT&T have a hard time.
Set up: Unfortunately, the LG VL600 at launch isn't OS X compatible. That said, for most users, who use Windows PC systems, there is an enclosed Verizon Wireless Connection Manager CD that comes in the box. Installing the CD will give you a connection manager for managing your mobile broadband connection, along with the necessary Windows drivers to get started. After you install the sofware, you can have the Connection Manager manage your WWAN 4G/3G connection and/or your WiFi connections as well.
Using the modem: To use the modem, you'll need to insert Verizon's 4G SIM card on the bottom of the modem after removing the back cover.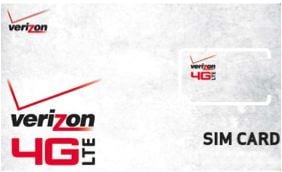 After you've done so, you can pop up the USB cover and plug it in to your USB port. However the modem is a bit wide, so if you have adjacent ports, those may get blocked. To remedy this, Verizon and LG have included a USB extender cable that will fit into your USB port and not block any nearby ports, giving you access to all your ports. After you insert the extender cable, you can then insert the modem into that cable. It does take a while for the modem to get detected after inserting, and when you connect, it does take a while for the modem to initialize. That said, after it connects and initializes, you should be good to go, speeding along on Verizon's Internet Autobahn.
Results: I typically average around 15 Mbps on the downlink. In Las Vegas, where other networks have crawled to a slow, Verizon's 4G LTE worked great in buildings and performed effortlessly, giving me about 8 Mbps of download speeds, which falls in line with the carrier's promise in spite of the Las Vegas area being highly and densely congested with up to 130,000 attendees as a result of CES, all connecting to cell towers for cellular voice and data.
As a result of my test speeds, Verizon Wireless has proven itself capable of delivering its promises for a fast, advanced 4G network. The network is also aided by the lower 700 MHz frequency, which helps in building penetration and delivering access through walls. In my home in San Jose, California where I normally receive 1 bars or less–often falling down to 2G speeds instead of EVDO 3G speeds–on my Motorola Droid and Droid Pro, I consistently get 4 or 5 bars on 4G speeds. In fact, building penetration was so fantastic that I have never fallen down to 3G speeds at home in San Jose or in densely populated areas and through thick walls in hotels and convention centers in Las Vegas.
Verizon's speeds were so great that I had foregone the Palazzo's hotel fast WiFi speeds in favor of more ubiquitous 4G coverage and have used the 4G LTE network for uploading pictures and videos, browsing the Web, and posting content onto GottaBeMobile and Notebooks.com.
That said, if you do fall out of 4G coverage, the Verizon LG VL600 will switch back down to 3G speeds as well.
Conclusions: I commend the carrier for under-promising and over-delivering on its speeds as well as for its commitment to rapidly deploying LTE to many areas. With a launch in 38 markets, the carrier had exceeded its goal of a 30-market launch. Additionally, it hopes to blanket most of America through the next year and a half or two years and will even partner with rural carriers, whose customers may not even have regular wired broadband access, to deliver wireless broadband access in hard to reach areas.

As an Amazon Associate I earn from qualifying purchases.