Quick Surface Pro 4 Deal Brings Savings
With the end of the holiday shopping season quickly approaching, Microsoft is encouraging everyone that's interested in purchasing its Surface tablets do so with some new savings. Today the company has a new Surface Pro 4 deal and some deals on its predecessor, the Surface Pro 3.
The Microsoft Store began offering what some would characterize as a decent Surface Pro 4 deal and more this week. The Surface Pro 4 is Microsoft's latest generation tablet. It's the company's chief competitor to Apple's MacBook Air and regular MacBook. It only recently went on sale for $899 without Microsoft Office preloaded or a Surface Type Cover.
This new Surface Pro 4 deal is all about getting buyers what they need in a single package. Starting today, Microsoft is slashing the total cost of a Surface Pro 4, a Surface Type Cover, a two-year warranty and a year of its Office 365 subscription service for $119. With a basic Surface Pro 4 and 128GB of storage, shoppers are looking at a minimum of $1168, according to Microsoft.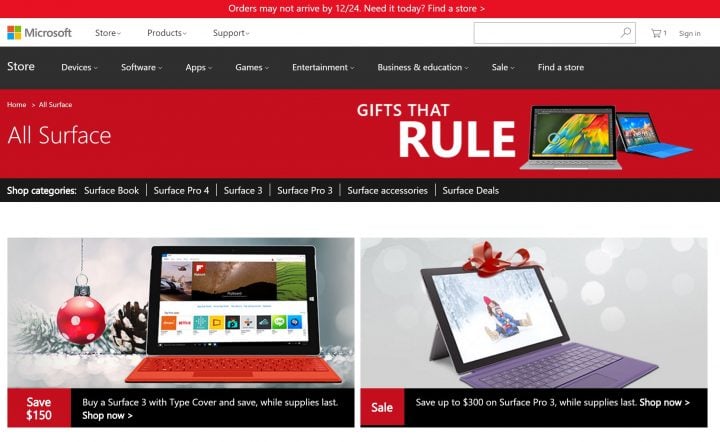 Office 365 is the company's subscription service for unlocking copies of Microsoft Word, Microsoft PowerPoint, Microsoft Excel and Microsoft OneNote. A purchase is required to get Office on the Surface Pro 4 since its screen size is bigger than 10.1-inches. Microsoft Office 365 costs $6.99 a month for its cheapest plan. The Surface Pro 4's Type Cover starts at $129.99.
The Surface Pro 3 is now $599 for a model with 128GB of on-board storage. Potential buyers should note that this model doesn't come with the Surface Pen accessory that other models do. The Surface Pen starts at $49.99 extra. All other Surface models have discounts running of at least $100 off, depending on configuration. The Surface 3, Microsoft's direct competitor to Apple's iPad Air, starts at $399.
Elsewhere, the deals that are available aren't anything that we haven't seen before. Microsoft slashed the cost of its Xbox One entertainment console to just $299 a few weeks ago. That savings is still available. The company is also giving buyers a free copy of Watch Dogs, The Crew or Assassin's Creed Unity. These are the same games and the same deal that Microsoft offered last week.
The Microsoft Band 2 has a price cut that saves Microsoft Store shoppers $50 instantly on the cost of the device. It's now $199 instead of the $250 price tag that it started at. It's a fitness wearable. Besides telling time, it has sensors that calculate everything from sleeping patterns to calorie burn and radiation. There are 11 different sensors built into the device. Microsoft makes companion apps for Windows Phone, iPhone and Android. The company recently released a dedicated Charging Stand for the Microsoft Band 2 that shoppers can pick up with their purchase for $19 more.
The Nokia Lumia 950 for AT&T has a price cut running as well. Microsoft has slashed $50 off the cost of the device's price unlocked.
The Microsoft Store offers free shipping on items regularly. Unfortunately, with the holidays arriving this week, the company says that it can no longer guarantee that shoppers get their items by December 24th. Instead of ordering online and taking a chance, shoppers are encouraged to head to their nearest Microsoft Store and take advantage of these deals in person. All Microsoft Store deals are available while supplies last.
All told, these are some great Surface deals for last-minute shoppers who were convinced that the Surface Pro 4 should be their next notebook and tablet. The Surface Pro 3 deal is an even better deal though. There aren't many immediate differences between the two devices. The newer model has  faster processors, and better cameras, but its Pen and Cover are compatible with the older model.