Quick Video Peek at HP Compaq 2710p Tablet PC
Very interesting, and somewhat disappointing, that in a slew of videos on this HP site highlighting the new products touted at the HP Mobility Summit there is only a brief glimpse of the new HP Compaq 2710 Tablet PC. (Watch the keynote video and if you don't blink too fast you'll catch it around the 6:00 minute mark.) I have also noted that quite a few commenters here at GBM have noticed that there are very images of the 2710p in Tablet mode. Hopefully we'll see more of those later.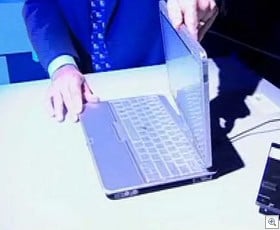 Also of note in the video focusing on fashion influencing design is this image:
Looks very UMPC like, but other images in other videos show something similar with an iPaq label affixed, so who knows.

As an Amazon Associate I earn from qualifying purchases.