Quickoffice Goes Free with 10GB of Google Drive Storage
Google announced today that it's making its Quickoffice mobile suite available for free to iOS and Android users, and if you sign into your Google Account in the app by September 26, Google will give you an extra 10GB of Google Drive storage for free that will be good for two years. It's not Christmas yet, but it sure feels like it.
Quickoffice is one of the popular mobile office suite apps for iOS and Android, and it allows you to edit Microsoft Office documents on the go, with the ability to sync them with Dropbox, Google Drive and other cloud storage services.
Previously, Quickoffice was a free app for Google Apps subscribers only and $19.99 for everyone else, but the company is making the office suite free for anyone now. Plus, the extra 10GB will almost double the default storage space of Google Drive accounts, which are given 15GB that is also shared with Gmail accounts.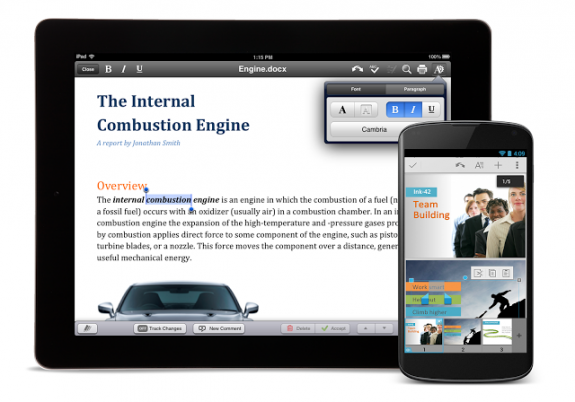 Google acquired Quickoffice last year in June. At that time, it offered native apps for iPhone, iPad, Android and Symbian. After the acquisition, the price remained at $19.99. Since then though, Apple release iWork on iCloud, and Microsoft launched Office 365 for both iOS and Android. However, now that Quickoffice is free, it undercuts Microsoft's required subscription for Office 365 and competes with iWork on iCloud directly.
It's certainly not a coincidence either; Apple just recently launched iWork on iCloud, and Google has come around to offer its Quickoffice alternative for free as well, plus the extra 10GB of Google Drive, which the search giant hopes will be the kicker for those deciding on which cloud-based office suite to go for.
Sadly, Windows Phone and BlackBerry users are out of luck, as Quickoffice won't be coming to either platform anytime soon. Google has never shown an interest in Windows Phone or BlackBerry, but we would never say never. Windows Phone users can still use Office apps, and BlackBerry users have a wealth of options to choose from, including Office 365.
Quickoffice is available in the iTunes App Store for iOS, and the Google Play store for Android. Get while it's still hot.