Quiet day on the computers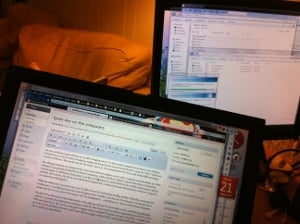 As you could have guessed from my prolific blogging today, I've been at the computer since about noon, taking a break from my usual routine of napping, eating and being chased away from the deck by squirrels. Wait, I think one or more of those is the actual cats who live here. Anyway, I'm running three PCs here, each doing different things.
One thing prompting my computer day were some software updates on my wife's computer messing things up. Some change in ZoneAlarm blocked the Internet connection, while a Windows update caused ActiveSync to launch at startup again. In addition to fixing that, I ran the usual diagnostics and found that, for as little as she uses it, almost entirely web activity, the drive was ridiculously fragmented. I cleared out some old junk from when her computer was mine then defragged it.
While the defrag ran, I moved over to my Toshiba Tecra M7 and started backing up files. With that running in the background, I was left me free to get some blogging done. Usually I run Acronic TrueImage to backup the drive image and don't worry about documents, but I'm prepping for… something new. More on that when it happens.
The third PC in the room is the media center. Been playing various TV shows and movies, including Zombieland (which is so good). No maintenance running on that PC, but I have to get around to upgrading its hard drive soon. With one hard drive, the whole system gets sluggish when recorded TV pushes storage to the limit. A bigger hard drive fixes that problem, but only until it gets filled up again, which it will. Making the new drive a second drive for media storage would address that, but if I'm moving media to the second drive, why not swap in an SSD for the OS and applications? Won't help much with stored media, but it should help with Internet media (easily half of what we watch) and sleep/resume. Regardless, the secondary drive for storage is the pressing concern. I'll see if any speed bump is needed from there.
All in all, a quiet day with the computers, cleaning things up and planning for new things to come.