Quirky Crossover iPhone 5 Case Review
Quirky offers an interesting alternative to the wallet case. The Quirky Crossover iPhone 5 case protects an iPhone 5 and holds a few cards and cash. The optional colors also add a little flair.
The Quirky Crossover case isn't really a case, but two rubber protectors that cover the opposite corners of an iPhone 5. Put one over the upper left and lower right while the second covers the upper right and lower left. This creates a crossover or X pattern on the back of the phone.
The Crossover lets a person tuck a few cards snugly behind the rubber bands on the back of the phone.
Quirky put a fake "ID card" in the case that claims to make the user a "ZAGETINSPECTOR" and bears the signature of Charles Ponzi. The text reads as follows:
This card entitles the inspector to a free meal and drinks at any Zaget Restaurant."
On the back, the card offers an explanation that this card really offers nothing. Without this little joke card the ability to use the case as a wallet wouldn't be as obvious, so the sample card and dry sense of humor add a nice touch.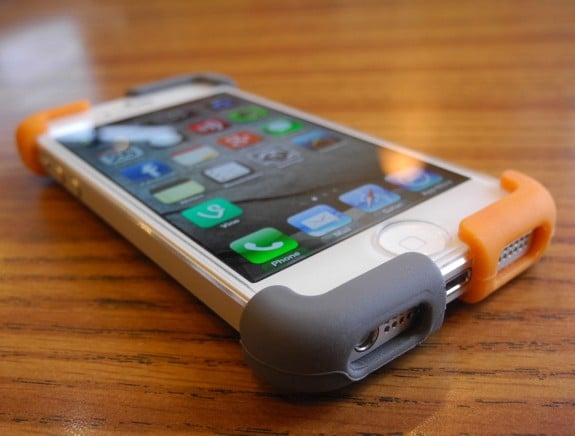 In addition to holding some cards or cash, the Crossover will protect the iPhone thanks to thick rubber material hugging the corners of the phone. Drop the phone on the corner or side and it's safe. Drop it on the back and it won't likely break. Even the front gets raised enough that we don't think the screen will break unless the point of impact hits the center of the screen.
Quirky offers a 12 colors to mix and match, giving the buyer their choice for $34.95. Most users will likely find a color combination they like. The gray and orange that Quirky sent along looked nice.
Carrying the iPhone 5 in the Quirky Crossover case feels good. It almost feels like a naked iPhone. The case shows off Apple's beautiful industrial design.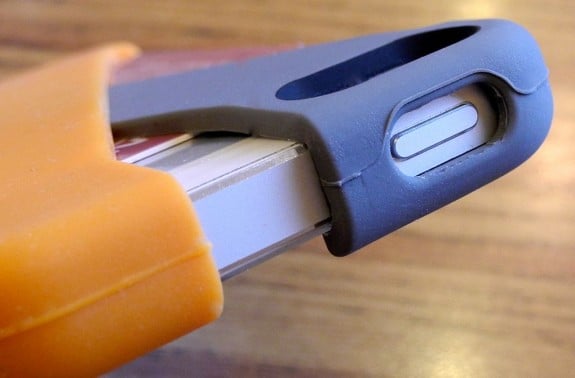 A hole in one of the two bands keeps the camera and flash uncovered on the back and all other buttons and ports are accessible, except the power button on top. It's recessed too far, making it hard to press.
At $34.95 direct from Quirky it feels like a good price for a case that not only protects the phone well but also offers the added functionality of holding some cards like a wallet case. The colors add flair and users feels like they're carrying a naked iPhone with this Crossover on the phone.

As an Amazon Associate I earn from qualifying purchases.