QWERTY BlackBerry X10 Spotted on Instagram
The square-screened, QWERTY-equipped BlackBerry X10 smartphone has been spotted on social photo sharing site Instagram prior to the device's expected announcement by Research in Motion on January 30. The smartphone has a traditional BlackBerry Bold-inspired keyboard as well as, what's new for the BlackBerry hardware, a square resolution touchscreen.
Though the BlackBerry X10 smartphone retains a hardware QWERTY keyboard, the key arrangement has changed somewhat. Rather than the curved keyboard arrangement, RIM is going with a more straight keyboard layout akin to a desktop keyboard.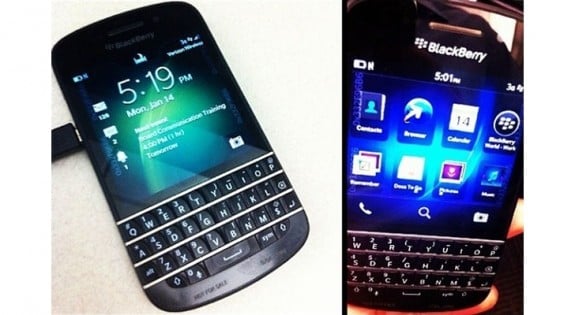 On the photo found on Instagram and reposted on Crackberry, the device has a 'not for sale' message inscribed on the bottom, suggesting that this particular one is a prototype model and not a final pre-production model. As such, the phone that could be launching on January 30th could vary drastically from what we see today.
What's really new with the BlackBerry X10 is the BlackBerry 10 operating system, which is now designed and centered around touch. RIM showed us a little preview of the BlackBerry 10 OS at the Consumer Electronics Show and it looks smooth and dynamic. New notifications and alerts are now bundled into BlackBerry Hub, there is an adaptive on-screen keyboard, and a number of new gestures to the platform.
With the BlackBerry X10, there is now no more BlackBerry navigation keys or a directional pad or optical tracker, similar to today's Bold series. This means that users will have to constantly shift their fingers between the keyboard and the screen portion of the device to tackle navigating the UI and typing and composing. While this isn't a big deal considering that the new OS is centered around touch, Bold loyalists may find this to be more cumbersome as it was easy to swipe left and right, and up and down, to get to many menus and UIs on the Bold without having to even lift your finger from the keyboarded portion to get to the touchscreen.

As an Amazon Associate I earn from qualifying purchases.