Qwikster Makes Me Think of Chocolate and Bunnies, Not Movies
As a loyal Netflix subscriber I'm baffled by today's rebranding of its DVD delivery service. I understand the need to adapt a business as the times change, but the name Qwikster doesn't do anything for me except remind me of commercials from the 1980s.
Back in the 1980s, kids my age were bombarded with commercials promoting Quik, a chocolate powder fortified with sugar. My mother never let the stuff in the house, but that didn't stop me from wanting it and paying attention to Quik Bunny, who always seemed hopped up on something.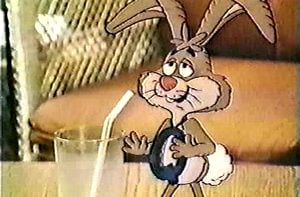 Nestle has since rebranded Quik as Nesquik here in the U.S., and over the years I forgot all about the stuff and the commercials. But Netflix has changed all that today for me, and probably many others, with the introduction of Qwikster.
I canceled my Netflix DVD subscription when they hiked the prices a few months ago and now only subscribe to its streaming service. My family and I stream quite a few movies through our computers, phones, iPads and Apple TV.
Big companies like Netflix put a lot of time and money into rebranding campaigns. Psychologists, marketing gurus, wordsmiths, artists and bean counters are all typically part of the process of figuring out how customers will respond.
Netflix is an iconic brand and will live on as the parent company of Qwikster and the name of the company's video streaming service. But the new red envelopes will carry the Qwikster branding. According to Netflix, it rebadged the DVD service Qwikster because it delivers DVDs to your door quickly.  You can read more about the Netflix and Qwikster changes here.
But with the name Qwikster, instead of making me want to sign up for DVD deliveries, all Netflix has accomplished is rekindling my interest in chocolate milk.
Maybe I'll kick back and enjoy some of the chocolaty stuff while I stream a movie or two from Netflix.