RadioShack No Contract Wireless To Launch September 5?
Recent rumors claim RadioShack is working on launching its own MVNO network and it looks like the official launch is just a few weeks away.
According to Engadget, a leaked document from RadioShack says the company will launch its own contract-free mobile carrier on September 5. The full name for the service is RadioShack No Contract Wireless, and it will use Cricket's network for service.
The retailer's mobile carrier will support Cricket's Muve Music service, which offers free song downloads, ringtones, and ring back songs to users. The service also offers exclusive benefits over Cricket Wireless like a free 8GB micoSD card for every Muve Music phone.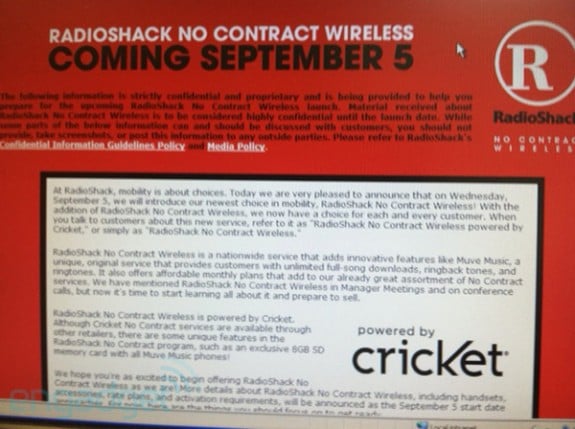 Unfortunately the leaked screenshot doesn't detail which Cricket phones RadioShack No Contract Wireless will offer when it launches. It also fails to mention the pricing structure of the new wireless MVNO. We assume the pricing will be similar to other prepaid phone plans, which is to say no more than about $50 a month for the plan with the most data.
We doubt the new carrier will be able to offer the iPhone which Cricket recently started carrying. We know how difficult it is for MVNOs to get the iPhone on their networks, so we expect RadioShack No Contract Wireless to offer mostly Android phones and feature phones.
For RadioShack's sake, we hope the September 5 launch isn't the final date. That particular day is already busy with the Nokia Windows Phone 8 and Motorola RAZR HD events on the same day. RadioShack's MVNO won't appeal to the same users as the phone announced at those events, but it will still get lost among the two big announcements. Not to mention the rumored iPhone 5 launch a week later.