RadioShack to Celebrate Galaxy S4 Launch with Cheaper Phone Trade-ins
When Radio Shack begins offering the Samsung Galaxy S4, users will be able to pick up the device from the electronics retailer and get up to $300 in credit towards their Galaxy S4 purchase.
The trade-in offer begins at the same time as RadioShack is scheduled to offer the Samsung Galaxy S4's AT&T and Sprint variants for sale in its stores, April 27th. Trade-ins must be done at the time of the transaction and any credit occurred can also be used for accessories. Additionally, users purchasing accessories for the Samsung Galaxy S4 who spend more than $30 will receive a $10 coupon that can be used on other purchases from RadioShack at a later date.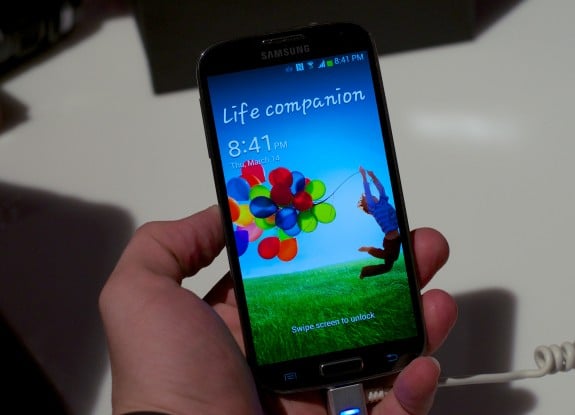 Currently, the Samsung Galaxy S4 is $199 with a two-year service agreement on AT&T while Sprint will offer the device for $249.99 with a two-year service agreement. RadioShack currently doesn't have the device listed on its website.
For those looking for huge savings on the new device, RadioShack's offer could be tempting. Users trading in a 16GB iPhone 4S would get $208 towards their purchase while those trading in a 16GB iPhone 4 would net a user $145 towards their purchase. A 16GB iPhone 5 would net users trading the device in $300, while those trading in a 16GB Samsung Galaxy S3 would get $140 towards the price of a Samsung Galaxy S4. All of these estimates depend on the user having a phone in fully working condition that's compatible with the AT&T network and a charger. We could only find an estimate for Sprint's version of the Samsung Galaxy S2. It would net a user $70 in trade-in credit.
It should be noted that while RadioShack's trade-in program for the Samsung Galaxy S4 does top out at $300, an individual trade-in of an iPhone 5 with 64GB of onboard storage would net a user $350.
In addition to cheaper pricing due to device trade-ins, RadioShack also includes 24 hour tech support with any mobile device sold at any of its locations. User who need help with their device down the road can get help for free via phone, an online chat with support representatives, email, or a special forum reserved for online help.
Read: Samsung Galaxy S4 Review
In our review of the Samsung Galaxy S4 we found that users who were looking to upgrade from the Galaxy S3 to the Galaxy S4 might have little reason to upgrade. That isn't to say that users seeking to make the switch from the iOS-based iPhone won't find Samsung Galaxy S4's software innovations like Air View, Smart Pause, and HomeSync to be well worth the switch.

As an Amazon Associate I earn from qualifying purchases.