Razer Edge and Edge Pro Pre-orders Begin March 1
Razer will begin pre-orders for the Razer Edge gaming tablet on March 1, with the device shipping later in the month.
Razer won't specify an exact date when the Razer Edge and Edge Pro will ship, only saying it will ship the tablets sometime in March. Pre-orders start at $999 for the basic Razer Edge which doesn't include the detachable controller.
Razer first introduced the Edge at CES 2013 where Gotta Be Mobile gave the device an award for Best Gaming Device. That tablet runs full Windows 8 with an Intel Core i CPU and NVIDIA mobile graphics so gamers can play most PC games on the tablet. Gamers can interact with games using the touchscreen, with the optional controller attachment or with another gamepad.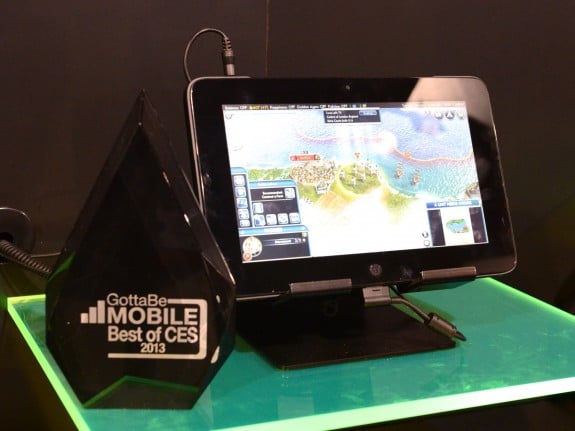 The basic Razer Edge costs $999, but is relatively underpowered. The base model uses an Intel Core i5 CPU clocked at 1.7GHz, an NVIDIA GT 640M LE with 1GB RAM, 4GB of RAM and 64GB of storage space. The tablet can play games, but it doesn't have enough storage to keep very many high-end games such as Dishonored, which Razer highlights in videos for the device.
The Razer Edge Pro has better specs than the Edge, and starts at $1299. The Edge Pro come with a 1.9GHz Intel Core i7 CPU, NVIDIA GT 640M LE with 2GB of RAM, 8GB of RAM and the option of either 128GB or 256GB of SSD storage. The Edge Pro should perform better than the Edge, and it can store more games on the tablet at once.
Neither tablet comes with any accessories. The detachable controller which puts joysticks and buttons on either side of the touchscreen tablet. The controller will cost $249.99, bringing the total cost of just the base Razer Edge with the controller up to about $1250.
Other accessories include the docking station to turn the Razer Edge into a home console and a keyboard dock for easier typing. The docking station will sell for $99.99, and Razer has no price listed for the keyboard dock.
It's not clear if accessory pre-orders will start the same day as the tablet pre-orders.