Rdio Launches Vdio, A New Way To Buy Movies and TV Shows
Today Rdio launched its new service called Vdio, a new store for buying movies and TV shows in a desktop browser or the iPad.
Unlike Rdio, which lets users pay a flat monthly fee to stream as much music as they want, Vdio asks users to pay per movie or TV show. The model makes it more of a competitor to Amazon Instant Video or iTunes than services like Netflix or Redbox Instant.
Vdio is available through any web browser on any platform, though the website will only work well on tablets, laptops or desktops. The service also has an iPad app, though like Amazon Video's app, users can't buy content through the Vdio app.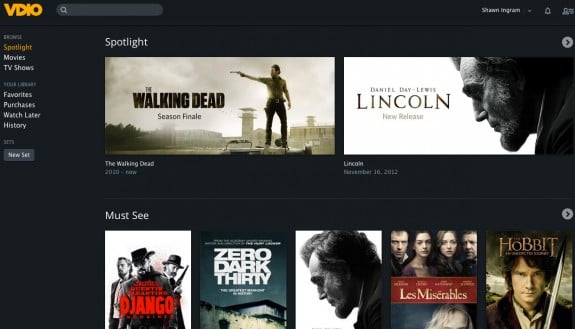 In order to buy content to view on an iPad, users have to open Vdio in Safari or any other browser and select the movie they want to watch. After buying the movie or TV show the website will give the user an option to either view the content in the browser or in the app. Purchased TV shows and movies will automatically appear in the app after the user buys them.
The iPad app supports AirPlay supports AirPlay so users with an Apple TV can watch movies or TV shows from Vdio on their TV. Because the service is new, there are no apps on other set-top boxes, so AirPlay is likely the best way view content from the service on a TV.
Movies and TV shows on Vdio cost about as much as they do through iTunes or Amazon. The service offers recent big movies and TV shows such as Django Unchained, Les Misérables, Lincoln and the third season of The Walking Dead. Some are available to rent, and other users can only purchase.
Users who subscribe to Rdio will get $25 free to use on the service, though they can't use it on certain titles.

As an Amazon Associate I earn from qualifying purchases.