Readdle Updates Printer Pro for iPad and iPhone
Readdle updated their excellent printer app for the Apple iPad and iPhone today making it even easier to print from your iOS device, even if you don't have an AirPrint supported printer.
I have two printers, one that works with AirPrint and one that doesn't. With Printer Pro, I can print to both of them.
After I installed Printer Pro on my iPad, the new Printer Setup Wizard immediately saw my HP M1212nf multifunction laser printer, which is AirPrint compatible. However, my Canon MG8120B color printer was note showing up on the iPad, so I installed the client app on my MacBook Pro. After starting over with the iPad app the MacBook Pro client app showed up as a printer, allowing me to add my Canon printer to the iPad.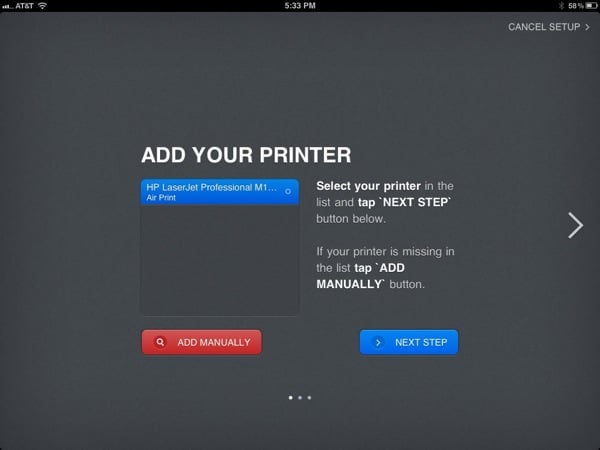 If for some reason you computer and printer can't communicate through your network, you can still configure the printer using the Cloud print function. You enter a special code from the client app into the iPad app and it will send the document through the cloud to the printer.
The process works great and makes setting up a printer for use with your iOS device a breeze.
When you're ready to print an actual document, just open it in another iPad app that has the "Open in…" feature. You will see Printer Pro listed as one of the optional apps to handle the document. The doc will open in Printer Pro and you can print it from the Printer Pro app.
It also prints contents from the clipboard, your contacts, photos in your camera roll, emails, websites, and documents stored either on your iDisk or in DropBox.
I wish it could access other sync services like SugarSync or the new iCloud. But for now it works well. Sadly, you will have to buy one version for iPhone and another one for iPad since the app isn't universal.
To try it out, download the lite versions either for the iPhone or the iPad. The pro versions cost $4.99 for the iPhone and $6.99 for the iPad. See Readdle for more information.

This article may contain affiliate links. Click here for more details.