Ready for a New Day – Office 2007 Tour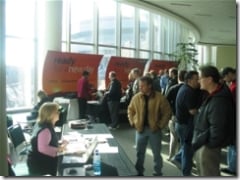 After being back form CES for only a few days, there is another Microsoft event closer to home. Today starts a tour to show off some of the features for developers and partners. Look for an event near you by going to the Microsoft Launch 2007 site.
Today's world of business is constantly evolving. People increasingly rely on tools that provide greater connectivity to corporate resources, the Internet, and each other. Familiar and easy-to-use, Windows Vista, the 2007 Microsoft Office system, and Microsoft Exchange Server 2007 easily connect and integrate with your current business technologies. These new products are designed to evolve as your business needs change. Simply put, using these products together helps promote a people-ready business environment that empowers your people to drive business success.

Learn how other companies have achieved success through collectively implementing these new releases. Our customer success stories illustrate how using these products can simplify how people work together; help to protect and manage content; help people to find information and improve business insight; and reduce security threats and deployment costs.
I did spot a Toshiba M400 Tablet PC running a presentation on a flatscreen TV!

As an Amazon Associate I earn from qualifying purchases.