Real Racing 2 HD Bringing Gaming and Apps to Apple TV
With Apple TV an iPad 2 and iOS 5 Apple has finally delivered a gaming console. It may be a $600 gaming console, but when iOS 5 arrives this fall Real Racing 2 HD will support full screen wireless gaming, beating the touchscreen Nintendo Wii U to the punch.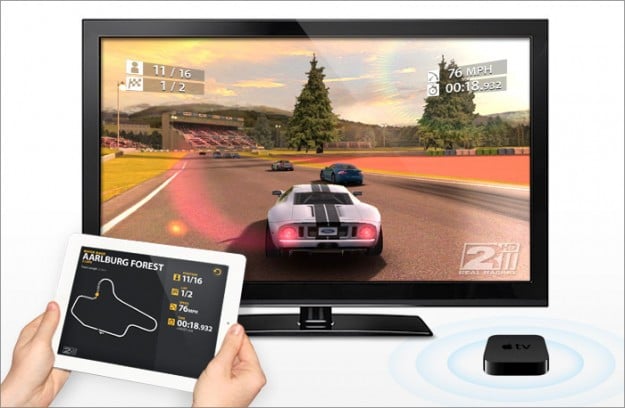 The new AirPlay feature allows for the iPad 2 to wirelessly push HD content to your HDTV with an Apple TV. Firemint calls this new feature, "a real game-changer." What can you expect this fall?
This isn't just mirroring – you'll be able to play Real Racing 2 HD on your big screen without a cable, while your iPad 2 displays racing telemetry in real-time. No black borders, no wires – just iOS racing at its finest.
It's great to see new gaming features coming to the iPad, and frankly it's surprising that it took this long for Apple to deliver apps for the Apple TV, but this Fall the Apple TV will finally have access to all 300,000 apps for the iPad. Unfortunately, adding apps to the Apple TV will cost $499.
What other games and apps are you excited about using on the big screen?