Realistic iPhone 6 Concept Shows Off Latest Rumors
A new realistic iPhone 6 concept details iPhone 6 rumors and shows off what Apple's new iPhone release could look like when it arrives on shelves this fall.
For months, we've heard rumors regarding the iPhone 6, Apple's brand new iPhone release and a device that's expected to replace the iPhone 5s later on this year. As we've moved closer to the fall and the month of September, those rumors have begun to firm up as Apple works to finalize both the device and its release details.
iPhone 6 rumors continue to point to some significant changes, highlighted by a brand new redesign that is rumored to include a thinner frame, aluminum, curved edges, and Sapphire in the front for maximum protection. The device is also expected to be much larger than the iPhone 5s thanks to a larger, higher resolution display.
While the device itself has yet to leak out, we've seen a number of solid leads emerge alongside iPhone 6 design rumors. Those leads have included supposed models that show off the rumored dimensions and they also include iPhone 6 concepts that rope together iPhone 6 rumors and showcase the entire package in action.
The latest iPhone 6 concept comes from designers Tomas Moyano & Nicolàs Aichino, courtesy of Yanko Design, and it offers consumers another realistic glimpse at the real iPhone 6 rumor mill.
This new iPhone 6 concept, which comes complete with Apple style branding, shows off the device's oft-rumored redesign complete with thin frame, rounded buttons, aluminum unibody form factor, Lightning dock, and Touch ID sensor embedded in the home button. Like the iPhone 5s, the iPhone 6 is expected to feature the company's fingerprint sensor for added support and security.
Their concept comes in three colors, gray, gold and silver, the three colors that arrived on board the iPhone 5s last year and the three colors that could arrive with this year's new iPhone release.
Finally, the iPhone 6 concept's design is punctuated by a glowing Apple logo on the back of the frame, a feature that is rumored to be coming along with the real iPhone 6 design.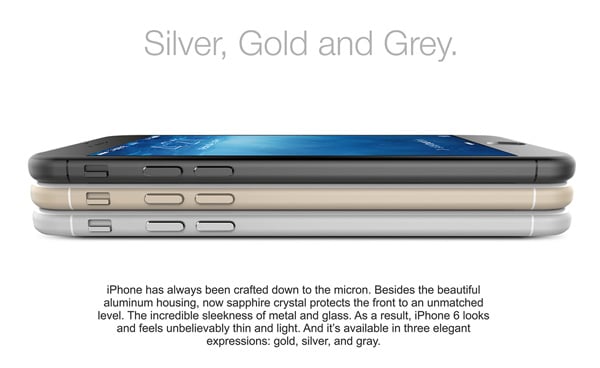 As for the other specs, the concept comes with a 4.7-inch Retina Display with a higher resolution, an A8 processor with an M8 co-processor for added firepower, a brand new 13MP iSight camera with Optical Image Stabilization, and of course, the new iOS 8 update that's expected to touch down with the iPhone 6 later on this year.
These concepts could potentially be the closest that we get to the real iPhone 6 before it arrives on stage later this year. Apple typically clamps down hard on detailed design leaks, meaning, there is a good chance that the full blown iPhone 6 design won't emerge until Apple CEO Tim Cook and company take the stage in the fall.
The iPhone 6 release is rumored to be just a few short weeks away with rumors continuing to point to an arrival in September. Rumors now point to an arrival sometime in mid-September though it's not clear if that release will represent the only iPhone 6 release of the year.
Apple is rumored to be developing two brand new iPhone 6 models, a 4.7-inch variant and a 5.5-inch variant. While the 4.7-inch iPhone is thought to be set for a September launch, rumors continue to point to a possible delay for the larger 5.5-inch model. Recent credible rumors have suggested that the device could potentially be pushed into 2015.
The company's new iPhone release is expected to debut alongside a slew of new products this fall including a new iWatch, iOS 8, OS X Yosemite, and two new iPads in the iPad Air 2 and the iPad mini 3. While iOS 8 and OS X Yosemite are confirmed, the other products remain in the shadows.

This article may contain affiliate links. Click here for more details.