ReCore Release Date Details & More
Microsoft, makers of the Xbox One entertainment console, needs great games. Exclusive video games are key, without them there's really nothing but tiny features and marketing stopping their most loyal customers from considering other platforms. Announced last year, ReCore is a 2016 Xbox exclusive that's attracting a lot of raised eyebrows.
For one, the game was a complete surprise. The community usually has some warning about new franchises. Console makers promote them to no end. ReCore debuted at E3 2015 without so much as a rumor surfacing. Of all the games that Microsoft plans to launch this year – and there are many, Microsoft has talked about ReCore the least. That's a shame because the ReCore release kicks off a huge for Xbox gamers.
What's ReCore's Story?
Joule Adams is from Earth, but that's not where she wakes up one morning. Her and hundreds of colonists left Earth a long time ago. They were part of a colonization mission, casting off into the stars to make a new home that could replace the devastated one they'd left. CoreBots, robots of different sizes and shapes with personalities of their own, were to help build this new shelter for humanity.
That's not what happened. By the time Joule awakens, Far Eden is in shambles. Years have passed since she first went into Cryosleep. Far Eden is now a desolate, sandstorm-ridden wasteland. It's unclear what happened or how to fix the damage that's already done. With her own CoreBot companion Mac, Joule sets out to uncover the secrets of the Far Eden disaster.
Players will need to customize their party of CoreBots to explore the planet, but Joule has her own slate of weapons too. Besides Mac, there's Sam, Duncan and Violet fill out her early CoreBot roster. Through exploring and customization, it seems that players can add even more CoreBots to their line-up.
https://youtu.be/WnKT9ZCGgBE
Late in the reveal trailer we see Jewel take the core of a destroyed Mac and insert it into another robot.
The ReCore Release Date
Officially, the ReCore release date is September 13th. On that day, both Xbox One and Windows PC owners will be able to enjoy the game. That release day puts the game far enough from October 11th's Gears of War 4 launch that it won't be overshadowed. Microsoft was worried about release overcrowding this fall and winter. That's why it moved Halo Wars 2 into 2017, it says.  
ReCore is being developed by two studios: Comcept and Armature Studio. Microsoft Studios is acting as publisher on the title, hence it's exclusivity in the Xbox ecosystem.
Keji Inafune is ReCore's producer and that's one reason this release is so important for Microsoft. Previously, Inafune worked for Capcom on the Dead Rising and Lost Planet series of games. Before that, he was the illustrator for the Mega Man series of games. Armature previously worked on Batman: Arkham Origins Blackgate, Injustice: Gods Among Us, The Unfinished Swan. For Xbox On, it's only developed a single game before, Borderlands: The Handsome Collection. The studio's heads, Mark Pacini, Todd Keller and Jack Mathews, all worked on Metroid Prime 3: Corruption.

ReCore Editions & Pre-Order Extras
ReCore lacks a Season Pass offer, but it does have a single pre-order extra. ReCore pre-orders purchased and played between now and the end of the year get a free Banjo and Kazooie Nuts and Bolts download. This is a full game brought over from the Xbox 360 to the Xbox One with the Xbox One Backwards Compatibility Program. Microsoft will distribute a free code to unlock Nuts and Bolts sometime after the launch of ReCore. 
Quietly made available for pre-order at GameStop, there's a ReCore Collector's Edition coming alongside basic copies of the game. The $199.99 purchase includes a Metal Case, a Lithograph, a decoder dial, a copy of the game in a special edition case and a statue of Joule.
Strangely enough, there's been no word on a possible ReCore Season Pass or any add-on content that players can purchase if they find that they love the game after purchasing it.
GameStop recently kicked off standard ReCore pre-orders as well. In the Xbox Store, ReCore pre-orders are available too.
Xbox on Windows is Getting ReCore Too
Microsoft confirmed earlier this year that ReCore isn't a traditional Xbox exclusive as most have become accustomed to. The company is in the midst of expanding the presence of Xbox on Windows. ReCore won't come to any other video game consoles, but it will be available on PCs with Xbox on Windows. The only way to get Xbox on Windows is to install the Windows 10 Upgrade or have Windows 10 installed on your PC already.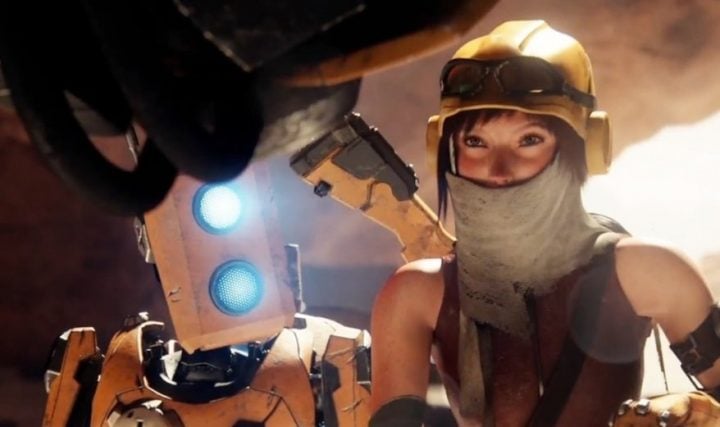 At E3 2016 Microsoft confirmed Xbox Play Anywhere. Play Anywhere is a program that lets Xbox One owners purchase a game on Xbox One and unlock a version for Windows PCs. The trick works in the opposite direction too, with purchases in the Windows Store unlocking Xbox One versions. Game saves, apparently, sync between the two platforms.
All of this depends on which version of the game you purchase. Getting a digital copy of the game entitles you to Xbox Live Play Anywhere downloads. Physical copies of the game don't.
Here's to uncovering the secrets of Far Eden with ReCore. 

As an Amazon Associate I earn from qualifying purchases.