Red Bull NASCAR Team Using Rugged Tablet PCs (video)
Today MobileDemand officially announced its sponsorship of the Red Bull Racing Team.  I'm in Charlotte, North Carolina with the NASCAR team to learn more about how the team uses mobile technology as it preps for the Coca Cola 600.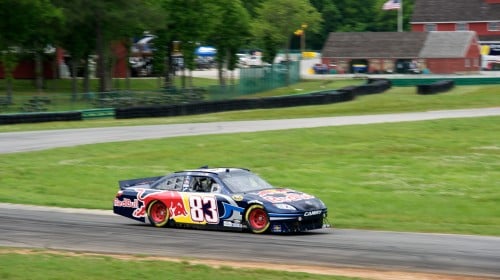 Yesterday I met up with the Red Bull team, MobileDemand CEO Matt Miller and Notebooks.com's Kevin Purcell at the Virginia International Raceway. I had a blast getting to see what goes into prepping for one of the biggest races of the year.
The Red Bull Racing Team runs two cars each race. We spent most of the day with the folks responsible for Car #82 which is driven by Scott Speed. The team relies heavily on an array of technology, software and communications devices. The newest addition to its digital toolbox is the xTablet T7000. The team is using several xTablet T7000's to set up tires, calculate fuel consumption and communicate in near real time.
As you can see in the video below, Tire Specialist Mike Motil is now a pretty hardcore Tablet PC user. Until he got the tablet, he scribbled down information on a notepad and scrambled to distribute carbon copies to his teammates. He can now ink or key in data on his tablet and his teammates can view his notes instantly.
GBM InkShows are sponsored by MobileDemand
Mike has been working for NASCAR teams for the past 17 years as a tire specialist and estimates he's been responsible for changing $26 million worth of tires.
We're going to the Red Bull Racing Team's shop tomorrow to learn more about all of the gear and gadgets. We'll be posting plenty more about how they use Tablet PCs and a range of other PCs to stay competitive.

This article may contain affiliate links. Click here for more details.