Red Nokia Lumia Tab for Verizon Appears Stands Out
Originally reported for arrival on AT&T Mobility's 4G LTE airwaves, Nokia's Windows RT-based Lumia tablet has now appeared in several images sporting a red hue and depicting Verizon Wireless branding. The tablet has been rumored to be a 10.1-inch slate with a snap-on keyboard cover that functions in a similar way to Microsoft's branded Surface RT tablet with its touch and type keyboard covers.
The new images were posted to a Chinese social media site and was reported by Phone Arena.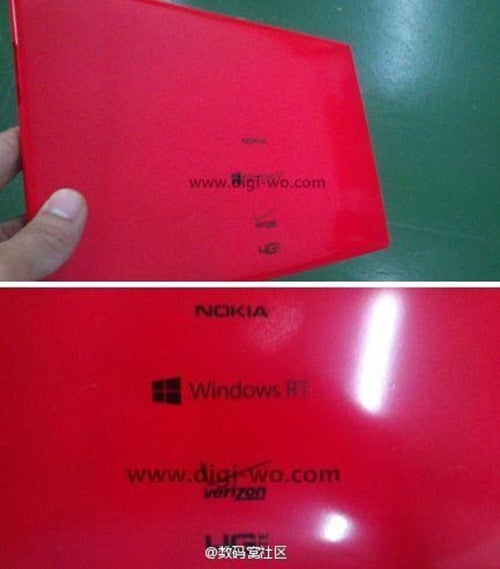 Given that red is shown here, Nokia may offer a number of bold, fresh colors for its tablet lineup similar to how it introduced colors on the polycarbonate shells of the Lumia smartphones, like the Lumia 920 and 1020 on AT&T. That information is not yet verified, but it would allow Nokia an opportunity to highlight its tablet and stand out from offerings from competitors. Though the Surface RT's design has been commended as being handsome and its build quality was strong, one of the complaints I had with that tablet is that it did not stand out on television, which was bad for product placement as TV audiences couldn't discern what tablet it is and who the tablet was made by.
Other speculated specs include a powerful Snapdragon 800 processor from Qualcomm, 32 GB storage, a 10.1-inch 1080p full HD display, and built-in USB 3.0.
The tablet believed to be introduced at a Nokia event on September 26.
At this time, it's unclear if the tablet will be hitting multiple carriers simultaneously in the U.S., or if AT&T will hold a semi exclusive on the Lumia Tab. AT&T and Nokia had both enjoyed exclusive terms when it comes to high profile smartphone launches, and it was only recently that the Lumia 925 variant had hit T-Mobile U.S. and the Lumia 928 debuted on Verizon.

As an Amazon Associate I earn from qualifying purchases.