Redbox Instant App Now Available on Google Play and iTunes, Still Requires Invitation
Verizon's Redbox Instant streaming video service app is now available through Google's Play Store and Apple's iTunes App Store as the service is nearing launch to compete with subscription rivals such as Amazon Video on Demand, Netflix, and Hulu Plus. However, to sign up for the service and use it, users will still need an invitation code from Redbox to join.
At this time, the service is still in beta, and users interested in joining the party early can request an invite code via Redbox. The $8 per month service is free for the first month as a trial, similar to what Netflix is offering, and after that you'll get unlimited streaming. However, unlike Netflix, you'll also get credit for 4 DVDs a month as well for titles that may not be available via streaming.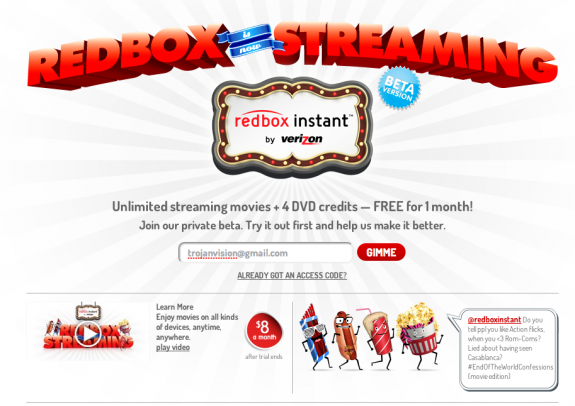 The service price makes Redbox Instant affordable, but the streaming catalog may not be as robust as that offered on competing services at this time. Hopefully, both companies will grow their selection of content in the future.
Though the Instant service is branded through Verizon and is formed via a partnership between Redbox and Verizon, users do not need a Verizon device or service to access Redbox.
If you're able to get an invite code and sign up for the service, let us know how Redbox Instant fares for you.

This article may contain affiliate links. Click here for more details.