Redbox Instant Beta Review: Same Titles, Different Service
Earlier this year Redbox and Verizon sent out invites to the Redbox Instant Beta, opening the Redbox Instant library to select number of users.
Unlike Netflix and Amazon Prime Instant, Redbox Instant focuses exclusively on movies with no TV shows in sight on the service. The trouble with that, however, is that there aren't that many movies worth watching on the service that aren't available elsewhere. There is only a small selection of popular movies available on the service at the moment.
A great example of the service is the "Featured" section of the iPhone app. The category currently lists recent big name movies such as "Thor," "Captain America," "Mission: Impossible – Ghost Protocol" and "Rango." Those movies are well-known, and they each have "Fresh" ratings on Rotten Tomatoes.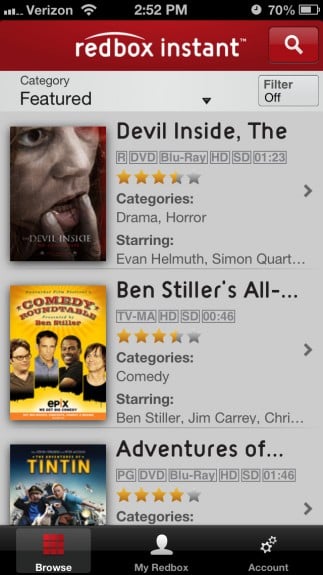 Other movies in the list, however, are titles such as "Soccer Nanny," "Hemingway's Garden of Eden" and "The Next Three Days." These movies aren't that well-known, and have either mixed, poor or nonexistent reviews. Netflix and Amazon also have movies like these, but they don't feature them like Redbox does.
Despite the mixed collection of movies the service does have good quality streaming. Movies played smoothly on a Wi-Fi network with no hiccups and no noticeable artifacts in the video. Performance over 4G LTE on Verizon on an iPhone 5 was just as good as over Wi-Fi.
Redbox Instant only has a website and mobile apps for watching movies, but it does support AirPlay for iOS users who have an Apple TV. Movies still look great when played over AirPlay, so users don't have to worry about lower quality video when watching movies on a TV.
For movies that aren't available to stream Redbox Instant offers users four free DVD rentals from a Redbox kiosk every month. Without an easily accessible kiosk this was more a burden than anything else, but those who live close to a Redbox kiosk will enjoy the convenience. The base $8 plan only lets users rent DVDs from kiosks, but users can upgrade their plans to get Blu-ray movies from kiosks, instead.

This article may contain affiliate links. Click here for more details.