Redesigned MacBook Air With Retina Display Coming Q3?
Apple may be releasing a wholly redesigned MacBook Air with a Retina Display as early as the third quarter of this year if rumors are to be believed. First reported by Taiwan's Economic Times, the new laptop will also get improved performance thanks to Intel's new Haswell processors and 'new external features.'
The publication did not elaborate on what those new external features are or would be. Even guidance on the Retina Display is still not certain as the publication says that it is a possibility.
If true, this could mean that the Retina Display resolution could migrate down to Apple's 11.6-inch MacBook Air model. Currently, the Retina Display resolution is limited to Apple's MacBook Pro series laptops with a 13-inch and a 15-inch option. As Apple sells standard MacBook Pro laptops alongside the MacBook Pro with Retina Display, it's unclear if Apple will offer the same model for the MacBook Air or if it will transition the entire lineup to Retina Display.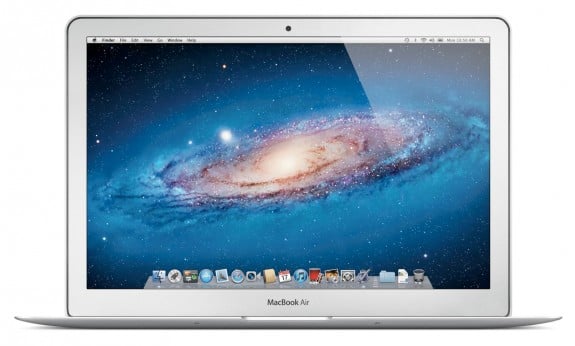 In the past, it's been speculated that battery life issues and high costs as reasons why Apple has not brought the Retina Display to the MacBook Air models. It's unclear if Apple has found a breakthrough on either or both issues. The MacBook Pro with Retina Display saw a recent price drop suggesting that components are getting cheaper to source.
With a number of thin Windows-based Ultrabooks entering the space that the MacBook Air competes in–and some even come with touchscreen displays–having an improved resolution on the thin, light, and powerful Mac laptop would help Apple remain competitive and differentiate its laptops from competitors.
It's also unclear how the design would change. The MacBook Pro with Retina Display uses a super slim form factor that's similar to the boxy MacBook Pro design. Thanks to eschewing the optical drive, Apple was able to significantly reduce the thickness. The MacBook Air uses a wedge-shaped design and it's unclear how Apple would be able to make it any slimmer.