Redstone Shows How Windows 10 Could Change Everything
New reports are shedding light on Redstone, an update reportedly coming after the Windows 10 operating system that'll mark Windows' transition to being a service.
In a new report out this morning, enthusiast website Neowin says sources speaking to it with knowledge about future plans have confirmed the existence of Redstone. Allegedly, Redstone is the codename for the next major update to Microsoft's Windows operating system.
According to the report Windows Redstone will be the first expansive update to Windows after the launch of Windows 10 sometime this summer. To be clear, Windows Redstone wouldn't replace Windows 10. Instead, it's believed Microsoft will treat the operating system as an update to the foundation of Windows 10. Redstone is a code-named said to be inspired by the mineral of the same name in Minecraft, the premium sandbox game from Mojang that Microsoft purchased last year for billions.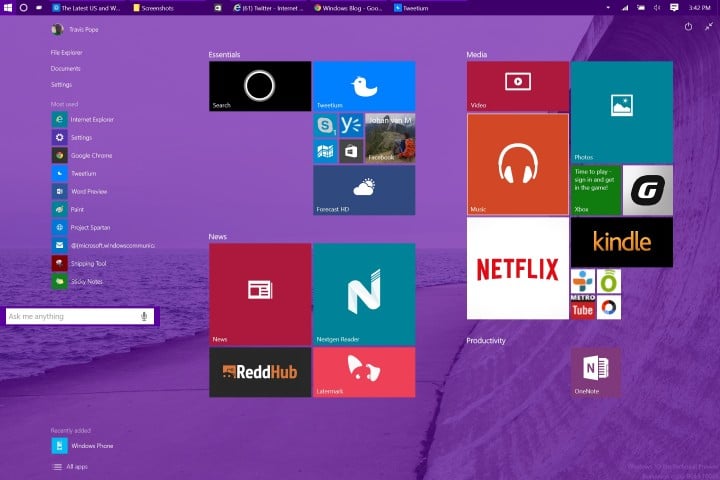 Neowin has provided accurate information about Microsoft's plans for Windows in the past, but it seems we don't have to take the outlet's report at face value. All About Microsoft is also confirming details about Windows Redstone. According to that site, Redstone is due out in 2016 and will be followed by another release later in the year.
If these reports are accurate we'll soon see the first examples of what Microsoft sometimes refers to As "Windows as a Service". Windows as a Service could be the best feature of Windows 10 we've seen yet.
Traditionally, Microsoft has offered up new versions of Windows with big changes in features and visuals every three years. Switching to a service model would mean that Microsoft regular deploys smaller incremental updates with new features and advancements. Microsoft will be able to offer more relevant features to users more quickly than it ever has before, theoretically.
All told Microsoft is roughly adopting the same model that Apple uses for its Mac OS operating system for the MacBook, iMac and Mac Pro to great effect.
All About Microsoft says that Windows Redstone will contain features and changes that simply won't make it in time for the Windows 10 launch coming later this summer. In addition to that, Windows Redstone and the smaller feature updates will have changes to "support the devices building on top of Windows 10 – things like Surface Hub, Windows Phone and HoloLens." A version of Windows 10 will run on all of Microsoft's different consumer hardware products going forward including the Xbox One.
The "Windows as a Service" catchphrase doesn't just refer to the cadence of new releases. Also baked into that new philosophy is a new delivery method. Upgrading Windows 7 and Windows Vista to Windows 8 required that users purchase an upgrade version for upwards of $100. Users had to go to retail stores or online shops like Amazon to get the update. With the Windows 8.1 update Microsoft tried making large scale updates available directly through the Windows Store for free.
Reportedly, Windows 10 will take care of the upgrade process itself. Windows Redstone will come to users through Windows Update instead of a bulky download that takes hours to complete.
Besides this switch to free and frequent updates Windows 10 will introduce a unified Windows Store across all of Microsoft's platforms. A dedicated tablet mode, a refreshed Desktop interface complete with a Windows Store and technology that helps users with Windows 2-in-1s transition between the two interfaces.
Read: What is Windows 10?
Last month Microsoft confirmed that Windows 10 would come as a free update to anyone running Windows 7 or Windows 8 for one year. How much it'll cost after that first year remains unclear.