Refreshed Intel Compute Stick Makes Your TV a PC
So many companies are trying to turn televisions into PCs that it's easy to forget that it was the Intel Compute Stick that started it all. Intel hasn't forgotten. At this week's CES 2016 trade show the company revealed new Intel Compute Sticks with its latest processor and Microsoft's latest Windows operating system.
It was at the Consumer Electronics Show that Intel revealed the refreshed Intel Compute Stick models. The devices have always been tiny. On one end of them is a full-size HDMI port that plugs directly into the HDMI port on the back of a television. That's much is true about these new versions of the device.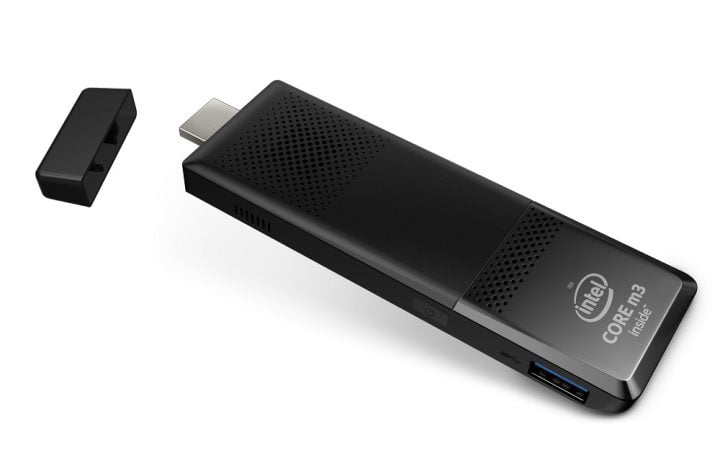 What's changed are the internals. Intel has switched to 6th Generation Intel Core M Processors that produce less heat than previous generation chipsets with the same power. One version includes the Intel Core M5-6Y57 vPro processor. Another is the Intel Core M3-6Y30 processor, which is used in Microsoft's completely fan-less Surface Pro 4 tablet. It's capable or streaming high-definition video and even some particularly resource intensive apps like Photoshop.
Also included in the new Intel Compute Stick models are 64GB of solid stage storage, 4GB of RAM, Dual Band Wireless AC wireless networking technology and Bluetooth 4.1. Each device has three USB ports for connecting accessories too, which is surprising considering its tiny stature. Intel also revealed a low-end Intel Compute Stick model with an Intel Atom X5-Z8300, 32GB of storage, 2GB of RAM Bluetooth 4.0 and two USB ports for $159.99. The Intel Compute Stick with Intel Core M5 processor costs $499. The Intel Core M3 model is $100 less, at $399. Every Compute Stick runs Windows 10.
The Atom based Intel Compute Stick is available now. Intel expects to begin selling the more expensive and powerful models sometime this February.