Refurbished 5K iMac Now Available in Online Apple Store
After releasing a few months ago, the newer 5K iMac is now available to purchase in Apple's online refurbished store at a discount.
If you don't mind a refurbished product, you can grab one for as low as $2,119. This will get you a 3.5 GHz Intel Core i5 quad-core processor, 8GB of memory, and 1TB of storage with Fusion Drive.
There are two other models available as well, including one that has 16GB of memory and 3TB of storage for $2,419, and a model with 16GB of memory and a 512GB solid state drive for $2,549.
The cheaper model has you saving a cool $380 off the normal price, which is a good deal if you want to save a bit of cash. $2,100 isn't bad for the latest iMac with a beautiful Retina display and considering that Apple has some of the best refurbished products around, you're pretty much buying nearly brand new.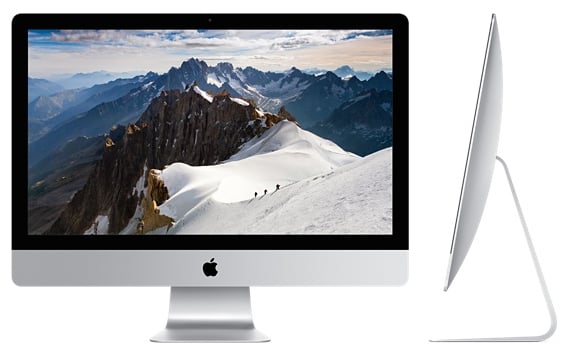 However, if there's one thing that you should know about refurbished Apple products is that the inventory is always changing, so if you see a particular model that you're thinking about buying but want to sleep on it for a few days, it might be gone by the time you come back with your credit card in hand.
With that said, the models that are available now in the refurbished store might not be the same models that you'll see later this week or next.
Of course, customers who've been waiting to buy refurbished have been waiting several months, as it usually takes Apple a significant amount of time to begin selling refurbished units of a product it recently released. The company has to wait for Macs to be returned, whether they were defective or just not wanted by the buyer.
Of course, there's always a wide selection to choose from no matter what. Apple's refurbished store includes MacBook Pro units and MacBook Airs, as well an assortment of iPods. You won't find refurbished iPhones, however, but you can easily find those used for a decent discount on eBay or Craigslists; just make sure that you aren't getting scammed.
Apple's refurbished products are essentially just items that customers have returned in the past, sometimes due to a problem with the device or they no longer wanted it and returned in within the allowed timeframe. Whatever the case, Apple takes these products and makes them new again, by fixing the problem (if there was one), giving them a new battery and slapping on a new casing.
Refurbished hardware from Apple is so top of the line that most people wouldn't be able to tell the difference between a refurbished MacBook and a brand new one if they were side by side. This makes buying an Apple refurbished device one of the best moves you can make when you're thinking about buying a "new" Mac.
So if you want one of those shiny new iMacs with the Retina display, now is your chance to save a few hundred dollars. Of course, it's not the cheapest iMac you can buy, but if you want the best-quality display on the market, the 5K iMac is the only option to go for in Apple's lineup.

This article may contain affiliate links. Click here for more details.