Reminder: Enter to Win the T-Mobile Lumia 710 Giveaway
Just a reminder that GottaBeMobile and Nokia are giving away a T-Mobile Lumia 710 Windows Phone. You can read out post on the giveaway and enter for your chance to win the device. Contest ends on Saturday, and we'll be notifying the winner directly on Facebook, so if you've won, be sure to respond to our Facebook inquiry so we can ship you your prize.
The Lumia 710 is the first Windows Phone device from Nokia to be available in the U.S. Nokia had subsequently announced that the unlocked, contract-free Lumia 800 will be sold as an unsubsidized device as part of an entertainment bundle and AT&T had joined the Lumia party with its own high-end Lumia 900, which has not yet shipped but will come with 4G LTE networking capabilities out of the box. The Lumia 710 is a budget device that packs a lot of punch and utilizes the same processor as that found on the more high-end Lumia 800. From a performance perspective, that should give you quite the device, though you'll have a regular LCD display rather than the AMOLED screen on the 800, and you'll be capped at a 5-megapixel camera rather than the 800's 8-megapixel shooter. That said, you can order a free back battery cover with a different color to customize your handset through Nokia.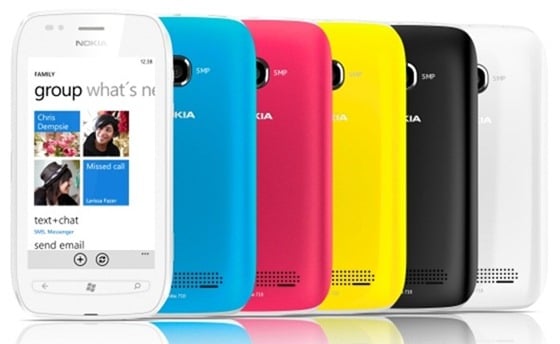 Be sure to also check out our detailed review of the Lumia 710 if you have any questions about the device in general.

This article may contain affiliate links. Click here for more details.