Replacement Fee With AppleCare+ Won't Be Waived Any More
Apple will release the iPhone 4S Friday, along with a new version of their AppleCare extended warranty plan called AppleCare+ (which we outlined in our list of the Top 5 iPhone Warranty Options Compared). The purpose of the plan is to provide accidental damage support for iPhone buyers. It also seems to signal a shift in Apple's customer service policies.
Our own Josh Smith described AppleCare+, writing:
New with the iPhone 4S is a more consumer friendly version of protection called AppleCare+. This protection is $99 for two years, and it covers hardware issues and support.

New with AppleCare+ is coverage for two accidental damage. This means if you drop your iPhone or spill water on it, you can get it replaced for a $49 deductible, but only twice.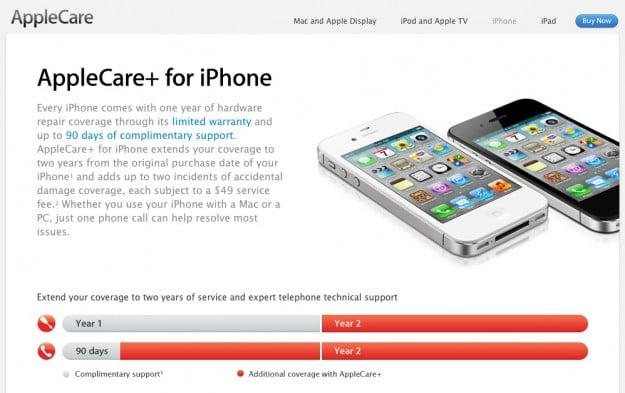 In advance of the new plan, a report states that the longtime unofficial policy allowing Apple support personnel at your local Apple Store Genius Bar to wave the $49 replacement fee will no longer be possible. Genius Bar personnel previously had the discretion wave the fee associated with the previous AppleCare plans if they believed that you were a good customer and were being honest about how the product was damaged. In addition to tightening this previously liberal policy, the new AppleCare+ will have to be purchased at the same time you bought your iPhone 4S, according to the AppleCare+ website. That was not even an option of October 7th at 5AM, when I preordered an iPhone 4S for both me and for my wife. Because of this, Apple will let you go to an Apple Store and buy the new service within 30 days, according to another report.
The requirement to buy the AppleCare+ protection at the same time as your new iPhone 4S contradicts their own terms of service which read as follows:
You must purchase the Plan while your original iPhone is within Apple's One Year Limited warranty.
The tightening of the generous policy of waiving a fee that technically was required for replacement of a covered iPhone accidentally damaged could signal a shift away from the customer-first support that we have grown to assume will come from Apple. I personally was a beneficiary of such gracious practice earlier this year when my iPad 2 dock connector sustained damage. They replaced it even though their official policy stated that such damage was considered accidental damage, not covered by the standard warranty. I didn't even have AppleCare, however I am an owner of numerous Apple products dating back almost 8 years.
Our own Josh Smith didn't experience service that good when he had to return his MacBook Air for a problem that was covered under warranty. The combination of this official policy shift and his experience has me less confident in Apple support. I just hope I never have to use it. Instead of relying on AppleCare+ I plan to get either a SquareTrade warranty or purchase insurance via the Worth Group when I get my iPhone 4S Friday. What will you do?