Reports: OneNote Coming to the Mac for Free
Perhaps this is a sign of the changing regime at Microsoft. Perhaps it is just change. Either way, if the reports are true that Microsoft is going to release a free version of OneNote for the Mac it should be a win-win for users and for Microsoft. Microsoft watcher Mary Jo Foley and the Verge are both hearing reports that Microsoft is planning to release this free version of OneNote for the Mac later this year. The reports also mention that there will most likely be a free version of OneNote for desktop Windows as well, and also a new web clipping feature. From this columnist's point of view I say both "Bravo" to Microsoft and I also say "What the hell took you so long?"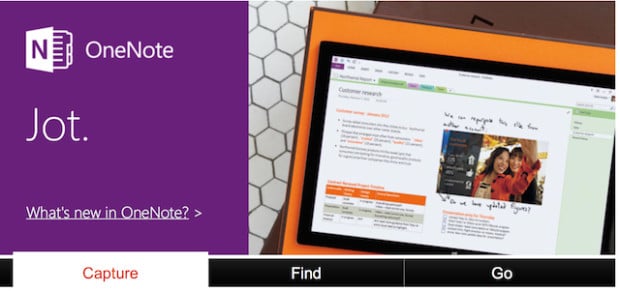 OneNote has been sold as a stand alone application and also as a part of the Microsoft Office suite for some time. There is a free Metro or Modern UI version for Windows 8.1, and also Apps for iOS and Android. All tie into Microsoft's newly rechristened OneDrive cloud service.
I've often maintained that Microsoft OneNote was one of the best applications available period. In fact for years I ranted that OneNote was the best kept secret that Microsoft wanted to keep secret for some reason. While it was on the market and available, Microsoft never really pushed the benefits in any real sense, allowing Apps with similar functionality, like Evernote, to essentially rule that space. Perhaps with the new CEO at Microsoft there is a change of heart regarding this significant application that has seemed to be a closely guarded secret for so long. Certainly the move could have been in the works prior to Satya Nadella taking the reigns, but we'll probably never know the timing. 
OneNote is a note taking application on steroids. You can clip and save articles from just about anywhere, arranging them in a filing system to suit your work tasks. For writers and researchers it is a powerful tool. In fact you can use OneNote as a primary tool to create and share documents and notebooks with collaborators. Photos, videos, webpages, and just about anything else can be deposited in a OneNote notebook.
One of the reasons this reported move makes so much logical business sense is that OneNote works very well with Microsoft's document storage and syncing system, OneDrive. Remember OneDrive used to be named SkyDrive until legal wrangling forced Microsoft to change the name to OneDrive. I don't think it is any accident that the new name resonates so well with OneNote. Regardless of the naming, a free version of OneNote for the Mac would be an excellent way for Microsoft to introduce Mac users to OneDrive.
Here's hoping that these reports are accurate. There's no word when we'll see this occur. But there is word that a new version of Microsoft Office for the Mac will be available later this year. The two moves could coincide or we could see a stand alone version of OneNote for the Mac prior to the Office suite launch. We'll have to wait and see.