How to Reset Your Password in Windows 8
Windows 8 and Windows 8.1 introduced a lot of new ways for users to do things. In some cases it makes activities, like searching or setting wallpaper, a lot easier. Unfortunately, password recovery isn't one of those things. Don't misunderstand, the process in unlocking a Windows 8 machine that has a forgotten password isn't more complicated. However, it isn't the same as it was in past versions of Windows.
Here's how to reset your password in Windows 8.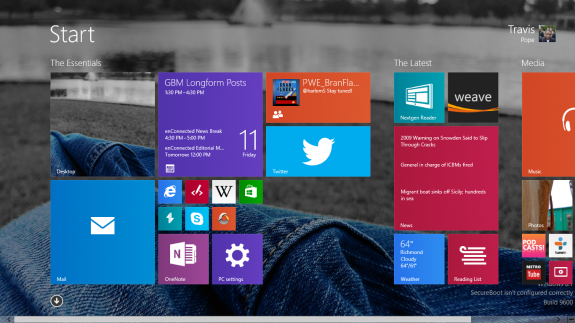 If  You Have Windows 8.1 or Windows 8 Installed and Use a Local Account
The process is pretty simple for users who have a device running Windows 8.1 or Windows 8 with a local account. That isn't to say that it isn't arbitrary. According to Microsoft, computers using local accounts – what Windows 7, Windows Vista and Window XP users already know as just a user account – will need to completely reinstall the version of Windows running on that machine. For these users, that means heading into their computer's settings and restoring their PC to factory settings.
This process is completely different depending on what manufacturer you have. As such, it's best to consult your PC's online guide about how to reset. If you created back up media when you set up your PC, it's time to use it. If you didn't, now is the time reach out to your PC's technical support lines for help in starting the factory reset process.
If You Have a Tablet Or Device Running Windows RT While Using a Local Account
The news isn't great for users with a tablet or convertible running Windows RT with a local account either. Microsoft says that users who lose the password for their local Windows RT account should simply contact their device's makers for further instructions.
If Your Tablet PC Uses a Microsoft Account
Luckily, the way Microsoft designed the Windows 8 and Windows 8.1 setup process means that users are definitely more likely to use a Windows device with a Microsoft Account. A Microsoft Account is the email and password that Windows prompts users to sign in with or create the moment they set up their device.
Though users can create a new Microsoft account during the setup process, it's more likely that the Microsoft Account a user inputs into Windows for the setup process came by the way of using Microsoft's online services. For example a Microsoft Account is required to use Xbox Live, Xbox Music, Outlook – what used to be Live Mail/Hotmail – and more.
If you used a Microsoft Account to setup your PC, simply reset that Microsoft Account's password here. Microsoft will use whatever phone number or emergency email account you added to the account to verify your identify and get you your new password.  You can identify whether you used a Microsoft Account by looking at your device's login screen. Look for an email address to appear to the left of your profile picture when you try to log in.
Even if you've already forgotten your password, it's important to remember that it's much easier to simply prepare for situations like this by creating password hints during the Windows setup process. That way, you're more likely to remember your password going forward.

As an Amazon Associate I earn from qualifying purchases.