Retailers Prepare Fire Sale and Refund Policys for HP TouchPad
Oh, the spectacle. Oh, the drama.
It didn't take long at all for retailers to go into disaster mode once the news that HP was killing the TouchPad. Amazon went into fire sale mode last night with the 16GB TouchPad briefly going for $99 and the 32GB going for $149. Although this morning you'll only find higher prices from other retailers on Amazon, not the fire sale prices. I expect that to change though.
Best Buy on the other hand has announced an extension of its 14 day return policy. Apparently there is now a 60 day window for a refund or exchange. Which considering that the TouchPad was on the market for a scant 49 days, should pretty much include any purchases at Best Buy.
And of course if you go to HP, you can find the two for $99 and $149 this morning.
Of course the question remains why would you buy one at this point.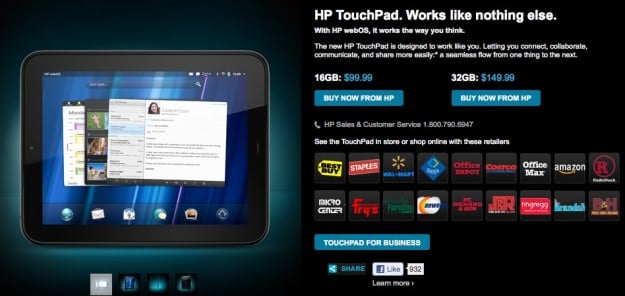 As an Amazon Associate I earn from qualifying purchases.