Retina Display Production Suggests iPad 5, iPad mini 2 Coming in the Fall After All
In the latest supply report, LG Display is expected to ship about 3 million display panels each for Apple's next generation iPad and iPad mini tablets. A report by Digitimes, which has had a mixed track record for reporting rumors, suggests that LG is on track for its display shipments for the fifth generation full-sized iPad, also referred to as the iPad 5, as well as for the second generation iPad mini, also referred to as the iPad mini 2.
It's unclear how many displays Apple will source from LG total as a report last month suggests that Apple may be turning to rival Samsung for displays for its tablets.
"LG Display expects to ship 2.5-3 million 9.7-inch panels a month for the iPad in the third quarter of 2013, according to industry sources," Digitimes reported. Of that number, between 1-2 million will be reserved for the new iPad 5 while the remaining panels are said for older iPad models. This would suggest that Apple would sell at least the current fourth generation iPad with Retina Display alongside the new flagship, but at a discounted price when the new model arrives this fall.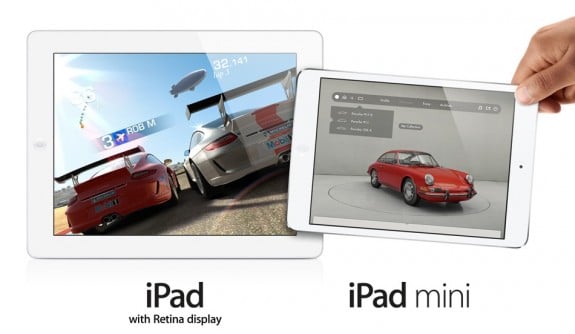 According to the report, the new panel will be thinner and lighter, which would indicate that Apple may be able to reduce the thickness of the tablet as well as the weight. Moving from the first generation iPad to the iPad 2, Apple had reduced the tablet's weight and thickness, which made a significant difference when holding the slate, but the company had to add back much of the weight it had shaved off when it went to a Retina Display on the iPad 3, which continues on for the iPad 4.
Another measure that would help Apple shave off weight is that LG has managed to use one backlighting tube, rather than two in current displays. This would allow Apple to reduce thickness, and perhaps shave off some battery weight as one backlighting tube would be more power efficient than having two.
Additionally, the single tube may also help Apple reduce the side bezels of the larger tablet to match the design of the iPad mini currently.
In addition to the 9.7-inch Retina Display panels, LG is said to be producing between 2-3 million Retina Display panels for the smaller 7.9-inch iPad mini. The publication says that the tablet is expected in October.