Retina Display Resolution to Be Manufacturing Challenge for iPad 3
As Apple is readying production of the iPad 3, the successor to the iPad 2, the bottleneck in manufacturing and major problem to consider is the Cupertino, California company's ambitious plans to deliver a Retina-like Display resolution on the larger 10-inch tablet. When Apple launched the iPhone 4 with its signature Retina Display, packing 960 X 640 pixels on a 3.5-inch display, Apple's then CEO and co-founder Steve Jobs defined Retina Display as having a pixel density so high that the human eye cannot discern between different pixels; for the iPhone 4, that means 326 pixels per inch.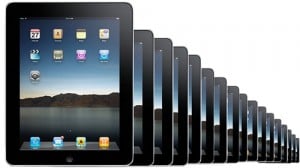 Sources in touch with Asian suppliers say that the iPad 3 may get a display resolution of 2048 X 1536 pixels, or twice the pixel density of the current generation iPad. The effective pixel density would be about 264 for the iPad 3 and Apple doesn't have to create as high a pixel density for tablets as they are not normally held as close to the face as a phone.
The problem here is ramping up production to create display panels in bulk that would satisfy demands for Apple's iPad 3. Production plans currently exist for LG and Samsung to manufacture those high resolution 10-inch tablet screens starting November, but at this point, these are just plans and nothing more.
Apple is speculated to be launching the iPad 3 in the first quarter of next year, which may prove to be difficult to produce the high resolution screens in volume. If LG and Samsung cannot fulfill orders for the 2048 X 1536-pixel resolution screens, Apple may use a lesser resolution display at 1,600 X 1,200.
Apple is also interested to increase the brightness of the screens, which may help the iPad 3's LCD screens to be more readable outdoors under direct sunlight. The new displays is expected to have a brightness of 550 nits, which sits between traditional laptop screens (300-350 nits) and the LG Nova display on the LG Optimus Black smartphone at 700 nits.
Via: CNET

As an Amazon Associate I earn from qualifying purchases.