Retina Displays Coming to Your Next Laptop, Ultrabook Thanks to Intel's Ivy Bridge CPU
The launch of Intel's much anticipated Ivy Bridge processors, which is slated to happen before the end of the month, will usher in a new era of high resolution displays for PCs, notebooks, and ultrabooks. Ivy Bridge will follow the successful launch of last year's Sandy Bridge processors and will integrate powerful multi-core CPUs with Intel's latest integrated HD graphics engine, but this year the chip will allow for Retina Display support for screens with up to 2560 X 1600 pixels. This resolution would be natively supported by Intel's Ivy Bridge platform's integrated graphics engine without the need for any discrete GPUs.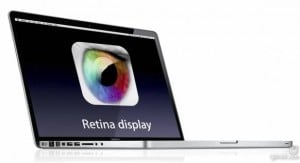 Apple had coined and popularized the term Retina Display on its mobile product, and the display technology initially debuted on the iPhone 4. Steve Jobs had said that with Retina Display resolution, consumers won't be able to differentiate individual pixels on the iPhone's display and that when the full website of the New York Times was shrunk to fit in the iPhone's screen, even the smallest of fonts on the publications text could be legible. The display became a major technological reason for upgrade on the company's latest third-generation iPad.
According to Intel VP and General Manager of the PC Client Group Kirk Skaugen, the technology for Retina Displays on your next PC is there if manufacturers 'choose to use it,' so you'll be at the mercy of manufacturers to roll out higher resolution display laptop, ultrabook, and PC monitors.
The resolution of 2500 X 600 pixels is roughly 4 times the number of pixels currently supported on Apple's 13-inch MacBook Pro. With four times the resolution on the next generation of MacBook Air and MacBook Pro laptops, Apple will now have a unified mobile computing lineup that supports Retina Display resolution. Larger laptops (the 15- and 17-inch) in the Apple 'Pro' line made use of a discrete GPU to help support larger resolutions on those systems.
You can watch Skaugen's remarks after the 14-minute mark to learn more about Retina Display support on Ivy Bridge.