Retro ThinkPad 25 Anniversary Edition Launched in Japan
Lenovo announced the ThinkPad 25 Anniversary Edition today, celebrating the 25 birthday of the first ThinkPad. The new limited edition ThinkPad will please traditionalists by giving them some of the creature comforts they miss on newer ThinkPads, while giving them modern specs.
Lenovo introduced the new ThinkPad 25 at an event in Yokohama, Japan, nearby its Yamato Labs. That's where ThinkPads have been designed and tested for the past 25 years. IBM introduced its first ThinkPad on October 5, 1992. Lenovo acquired the ThinkPad business from IBM back in 2005 and has managed to keep the ThinkPad ethos intact.  Employees that worked on early ThinkPad iterations are still with the brand and unveiled the ThinkPad 25 on stage.
The ThinkPad 25 Anniversary Edition is based on the ThinkPad 470, which means the retro portion of the computer is skin deep. Beneath the old-school keyboard are modern components, including an Intel Core i7-7500U processor and NVIDIA GeForce 940MX graphics.
The ThinkPad 25 Anniversary Edition will be available in limited quantities for $1,899, but Lenovo's promising discounts right off the bat. That's a few hundred dollars more than similarly equipped ThinkPad T47o units, but there are plenty of ThinkPad fans who will consider that a small price to pay for a keyboard layout they miss so dearly.
While ThinkPads have evolved over the past couple of decades, they're still instantly recognizable, especially to the countless professionals who have spent their entire careers using ThinkPads. Today's ThinkPads still resemble Bento Boxes, but they are less boxy and they lack a lot of the buttons that middle-aged workers spent their youth mashing away at.
Like older ThinkPads, this new ThinkPad's retro keyboard has seven rows of keys, as well as dedicated volume buttons.
The retro ThinkPad logo decorates both the ThinkPad 25's lid and palm rest. Other current ThinkPads have are monochromatic, save for the signature red dot.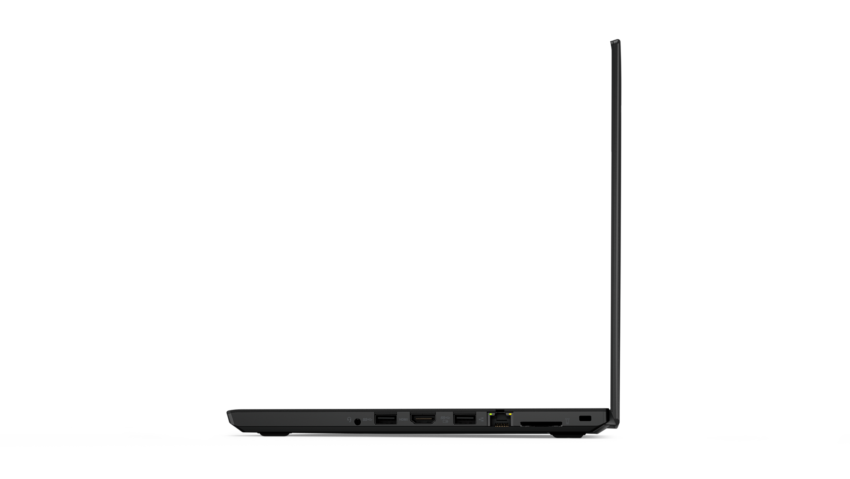 The ThinkPad 25 will ship with 16GB of memory, a 512GB SSD and a 48Wh battery that will power the computer for up to 13.9 hours on a single charge. The 14-inch HD display is touch-enabled.
The ThinkPad 25 comes in a commemorative box, complete with the RGB ThinkPad logo.
Like other professional-grade ThinkPads, the ThinkPad 25 had to survive rigorous durability testing to earn its badge.  Lenovo's Yamato Labs puts samples of each ThinkPad model through a battery of tests to make sure each model meets or exceeds 12 MIL-SPEC standards.  ThinkPads have a long history of durability, which is one of the reasons they're often found being used in harsh environments, including outer space. NASA's used ThinkPads on its shuttle missions and the International Space Station.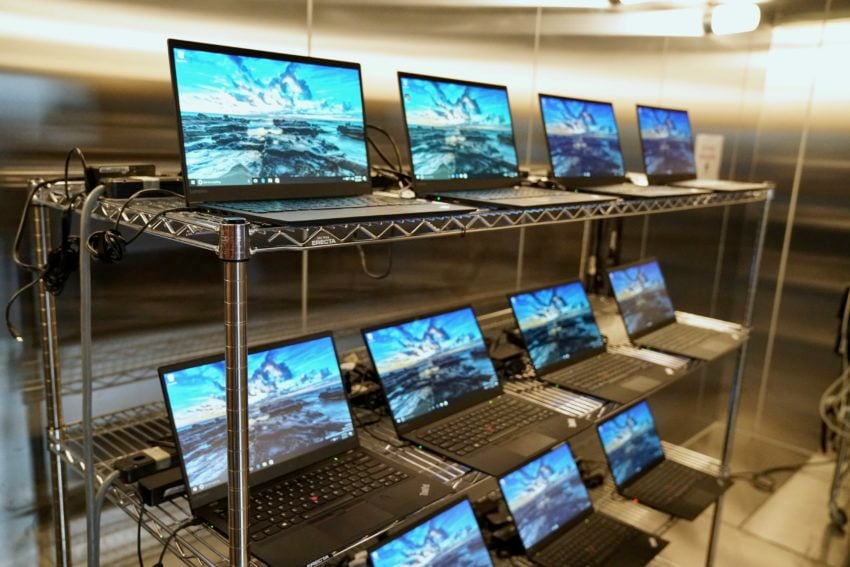 This batch of ThinkPads were running in an enclosed space that was exactly zero degrees Celsius. The cold environment accelerates faults, which means they can spot potential problems before their customers do.

As an Amazon Associate I earn from qualifying purchases.