Review: iPad 2 Smart Cover Hands-On Video
Apple's Smart Cover accessory for the iPad 2 brings good looks and smart design to the second-generation tablet, but more importantly, the cover case serves a secondary purpose to show off the iPad 2's industrial design and turn you into a walking product placement machine whenever you walk around with the tablet.
The case design is simple. There is a metal rail on the left hand side of the cover flap. The Smart Cover covers and protects only the front of the tablet with either a polyurethane or leather material. The inside of the cover is lined with a microfiber material, which Apple CEO Steve Jobs claims to help remove fingerprints on the screen and keep the display clean.
Magnets are on both the left spine of the iPad 2, where the rail on the Smart Cover would attach to, and along the right side bezel of the display. The right magnets serve a clever function, which is to activate the screen when the device senses the magnets from the Smart Cover are no longer in contact with those on the front side bezel of the display. When the magnets come back into contact, the display will turn off and conserve battery life. This way, you don't need to activate the Sleep/Wake button on your iPad, nor will you have to worry about accidentally hitting the button and turning on your display.
Jobs says–and we've experienced it at the iPad 2's unveiling in San Francisco, California–that the Smart Cover will automatically snap on and align itself so it's a simple accessory that does what it needs to. The covers are available in a variety of colors. The polyurethane edition will cost $39 while leather will set you back an additional $30 on top of that.
Since the back side of the iPad, which is durable and made of aluminum from a similar unibody construction like the original one, won't be protected against scratches, users who want more protection can pair Apple's Smart Cover with a skin or shield, like the Wrapsol or Invisible Shield, to give added protection while maintaining the svelte look of a naked iPad.
The best part about the cover case is that it there are folds along the cover, which will allow you to fold the case ontol itself and wrap it into a triangle or pyramid form. This will serve as a stand, as well, for the iPad when you're using the second-generation tablet. Tilt it more horizontally and it props the screen up at a comfortable viewing angle when typing at a desk or tilt it up more vertically to communicate via FaceTime or watch movies.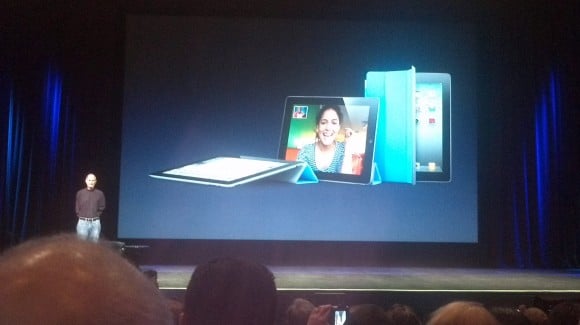 As an Amazon Associate I earn from qualifying purchases.