2013 Ford F-150 SVT Raptor Review
Ford's Special Vehicle Team (SVT) is responsible for quite a few special vehicles. The F-150 Lightning, the SVT Focus and the Shelby GT500 are just a few of their popular items. In 2010 the SVT produced the Raptor. The Raptor is designed to be a truck that is more capable off-road than on. It is a truck that can run the Baja 1000 straight off the assembly line. For 2013 Ford made a few changes to the Raptor and added some more advanced technology to the package.
We took a look at Ford's latest off-road offering when we road-tripped across Texas, and had a few surprises along the way.
The Enigma
The F-150 SVT Raptor (here on out known as just "Raptor") is a bit of a perplexing machine. It is built on the F-150 platform, but it is far from a practical truck. The Raptor has a towing capacity of just 8,000lbs in SuperCrew trim and also only comes available with a 5.5ft bed, which limits space. In that 5.5ft area of space, only 1180lbs of stuff can be hauled. Compared to Ford's other truck offerings, the 11 city / 16 highway mileage is also poor. The "as tested" price of the Raptor we reviewed is also $53,595. The truck is seemingly built with a single purpose, and it is quite surprising that Ford is able to sell these trucks at all.
Ford does sell a lot of them though!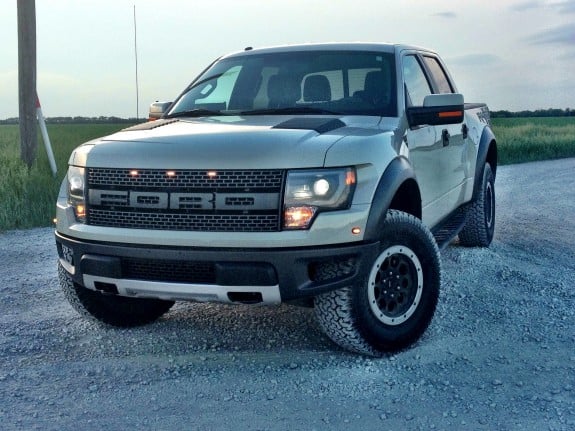 Technology
The Raptor includes the latest version of Ford's MyFord Touch system, with a bit of a twist. Instead of all touch-sensitive buttons, like in the 2013 Fusion, the Raptor features physical buttons with nice grips on them. They can be used with gloves as well, making this version of the system preferred in cold climates. The MyFord Touch system in the Raptor also features a different instrument cluster. Unlike the Fusion, the system features just one screen and does not provide redundant information like navigation or music playing. This center screen can also be seen in the current Mustang.
https://youtu.be/9PMroKB8xOw
The Truck Apps functionality allows the driver to view information geared specifically for off-road use. This includes the steering wheel angle and front wheel angle. It also includes elevation and vehicle pitch, which is used for rock crawling. Our test vehicle was equipped with the front-mounted off-road camera option, which is engaged through the Truck Apps. This camera activates when off-road driving and allows the driver to see items that may not be visible from the cockpit. The camera features guidelines to show where the vehicle is facing. It also features projected lines that will show where the vehicle is headed based on current steering angles.
The camera requires an activation sequence similar to that of launching a nuclear missile. While it could be used for parking, it was intended as an off-road aid. It would be nice to see it with a single-button activation though, or a split screen with the rear camera, to aid in parking.
https://youtu.be/hgclxYPIQHI
https://youtu.be/JBBXfbU7o-4
The Raptor also features a vehicle dynamics system called "Off-Road Mode." More than just traction control, Off-Road Mode cuts back on traction control interference. This allows the vehicle to slide for a bit before applying brakes to straighten everything out. Also, it cuts back on the anti-lock braking system (ABS) to actually allow the wheels to lock. When driving on sand or gravel, this improves traction and stopping distance by building up the sand or gravel underneath the front of the wheel and providing resistance.
If the front locking differential is also engaged, the computer will adjust how it functions to aid in off-road cornering and maneuverability. The computer system is programed and tested to ensure that the Raptor is just as fast off-road as it is on the road.
Finishing out with the electronics specifications, the Raptor features high-intensity discharge (HID) headlights that make seeing at night a breeze. It also features a rear-view parking system. The rear-view parking system consists of both a rear-view camera and an audible parking assist system. As you approach something solid, the system will beep faster to let you know. After a week with the Raptor it's far easier to back the Raptor into a parking space than it is to pull it in.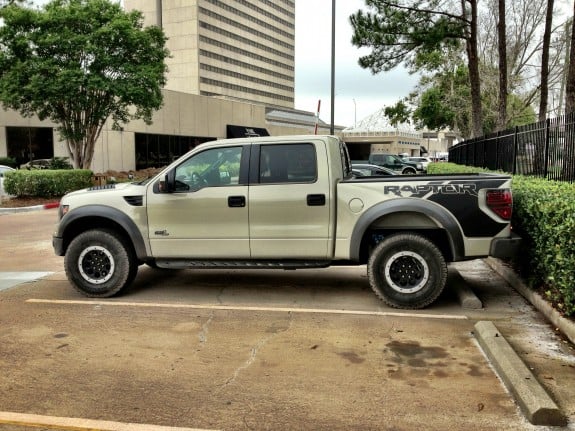 The Raptor comes equipped with keyless entry (but not keyless ignition) and a remote starting system. The remote starting system takes a look at outside temperature and can turn on the heater or air conditioning unit automatically. It will even enable the seat heaters, coolers or defrost if necessary.
The Raptor includes power folding exterior mirrors. When maneuvering through a tight area, the mirrors can fold in to save some width. The Raptor is actually about 7 inches wider than a standard F-150, so this is supposed to help. In reality, the fender flares are just as wide so it does not seem to make a difference. The only place we found it useful was the drive-in at Sonic, where the order box and menu make it a very tight fit at mirror level.
https://youtu.be/-kz0xkFE-oE
The Raptor also features an automatically dimming interior rear-view mirror, heated and cooled power leather sports seats, and a set of switches pre-wired for use with off-road accessories that many drivers fit in the aftermarket.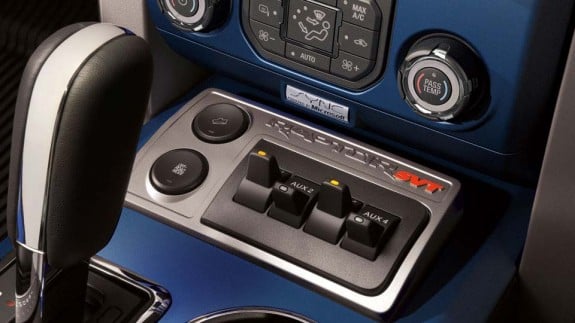 Driving Experience
Many reviews  talk about how great the vehicle is off-road, jumping across sand dunes or rock crawling at Moab. We can assure you that the Raptor is easily capable of all of that. But what many of those reviews do not tell you is what the Raptor is like for on-road driving.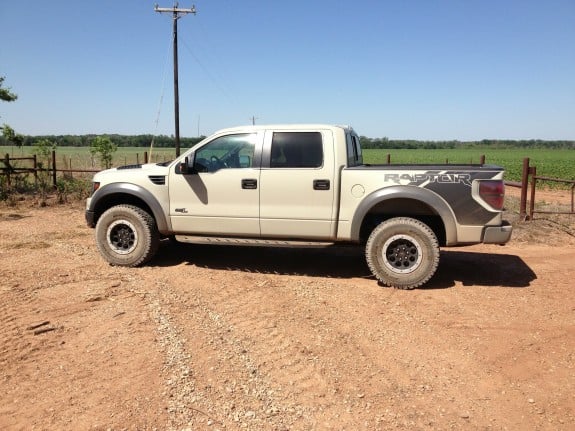 After arriving in Dallas we were immediately stuck in rush hour traffic. If the mirrors are set properly and proper attention is given to the width of the vehicle, then driving the Raptor in rush hour is a painless experience. The truck is noticeably wider than many vehicles on the road, though, and that leaves the driver with less room to move while within the lane. We never encourage distracted driving, and in the Raptor the margin of error is less, making it downright dangerous.
Once we established a rhythm, driving the Raptor was effortless. Unlike many trucks, the steering is a joy. It provides excellent feedback about what type of surface the vehicle is currently driving on. Luxury car manufacturers try to limit steering wheel vibration as much as possible. Mainstream manufacturers try to limit it but sometimes the wheel will shudder a little bit. On the Raptor, the vibration of the wheel was easily translated into rough tarmac, sand and gravel. The steering is also very tight for a truck. It requires very little steering input to change direction.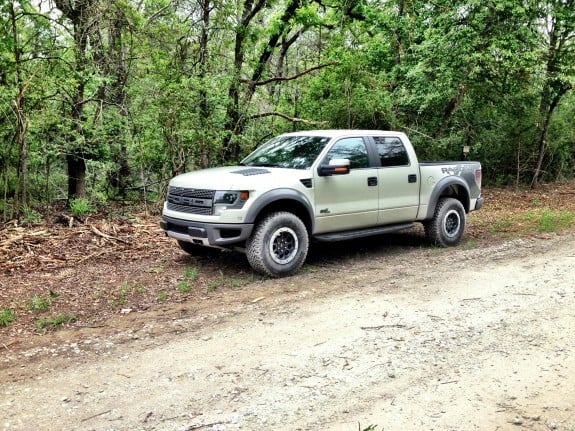 Power is provided by a 414 horsepower 6.2L V8. It is mated to a 6-speed electronically controlled automatic transmission and features a tow-haul mode and manual shifting sport mode. The vehicle is no slouch. It feels quick off the line and passing is effortless. Because of the 4.10 final drive gearing, the Raptor at 60mph is turning just over 2,000RPMs. While this might seem normal for a Ford Fiesta or other small vehicle, a big V8 spinning that fast is the main reason for the fuel economy being so poor. However, that gearing does make the truck even more capable off-road, which is what SVT intended.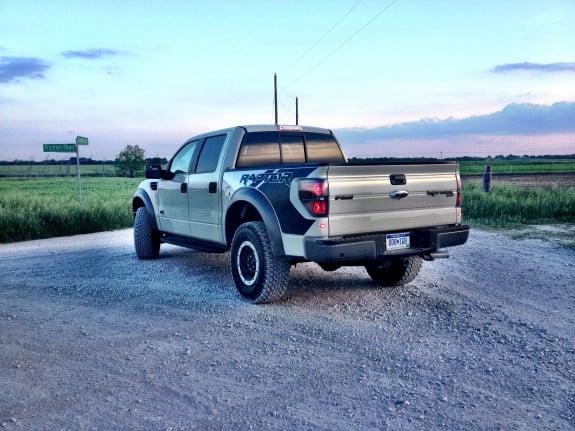 When it comes to ride quality, the Raptor is also excellent at it. Because the shocks are tuned for jumping sand dunes, the vehicle is softly sprung. This means that driving down the road the truck just floats over bumps. It is not Lexus quality, but for a truck it is quite comfortable. Enhancing the ride quality is the excellent sound dampening in the truck. The engine is definitely noticeable, but it does not drone at highway speeds. The specially designed tires also exhibit very little road noise. Normally performance tires are loud when driven, and it is amazing how quiet this truck is at speed. The long drive from Dallas to Houston was effortless. Upon arrival there we were not tired, and there were no back or headaches to speak of.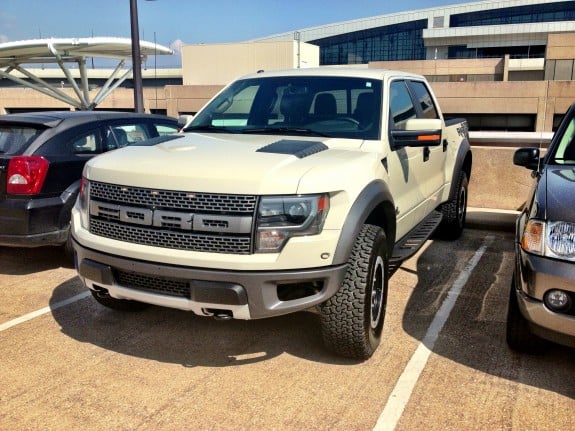 It is an excellent grand-touring truck, which is impressive for a vehicle that was not designed for that function. We would rather roadtrip in the Raptor than a regular F-150 any day. The only thing holding it back from being an epic road trip vehicle is the fuel economy. Texas was unseasonably cold and windy during our trip, and our combined fuel economy to Houston and back from Dallas was just over 12 miles per gallon. The SuperCrew we tested does have a 36 gallon fuel tank. This is excellent for off-road endurance and avoiding fuel stops while driving. But when it comes to filling it, that 36 gallons can be awfully pricey.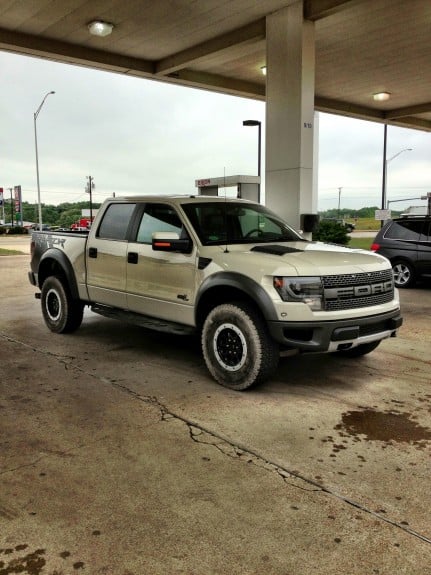 Driving a Raptor also makes you start to seriously reconsider what is considered a road. Trucks are popular in Texas for a lot of reasons, and one of them has to be the off-road capabilities. In many states, turning on a country road would involve a paved road with two defined lanes. That is not the case in Texas! We often found ourselves (on purpose, of course) driving down a dirt or gravel road just off the expressway. This made it easy to drive in remote locations without getting lost. At one point we encountered a detour just outside of West, Texas and found ourselves down a country road. We had no idea where it went. In a normal car, we would have had to turn around and find another way. Not the case in the Raptor: all that was required was throwing caution to the wind and pressing the right foot to the floor!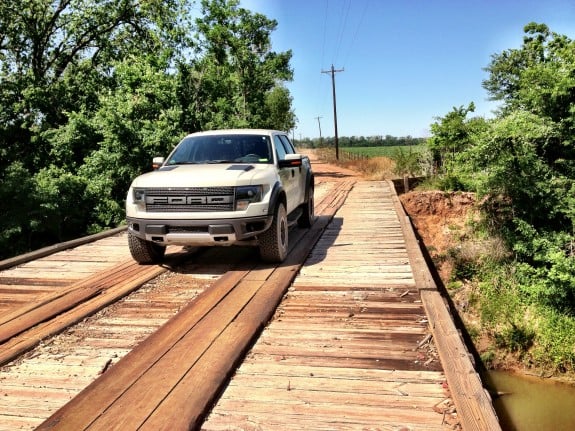 Later in the week we found ourselves driving through a tilled over field. Driving slowly, the ruts made the truck bounce around uncomfortably. However, with the Raptor if you just increase speed the ride becomes much more comfortable. The Raptor just floated across the ruts. The Raptor has over 11 inches of suspension travel from the Fox Racing shocks and soaks up the worst Texas can throw at it effortlessly.
If anything, the truck lulls the driver into a false sense of security because it is so capable. It is possible for the Raptor to get stuck and need a tow. But during our week of testing, that was not necessary. #Motorama LIVE's Berry Lowman even took the controls to show us that the Raptor is even capable of crossing a mud-filled ditch that nobody in our group thought it could cross. Even when we were crossing, it felt like truck was about ready to roll on its side. However, it crossed easily to our astonishment.
Final Verdict
The Raptor is an amazing piece of engineering that, on paper, does not seem to make any sense. Why would someone purchase a Baja truck that's impractical as a truck? We imagine that some people buy it because it is a status symbol. After spending an entire week and nearly 1,000 miles in it, we believe it is more than that. Sure, it is a lot of money. But it does things no other truck can do.
Effortlessly drive both on and off road.

Provides excellent road trip entertainment with MyFord Touch.
Provides excellent comfort with heated and cooled, power adjustable seats.
Provides an enthusiast sound without being obnoxious on long trips.
Off road, handles more capably than many sports cars handle on road.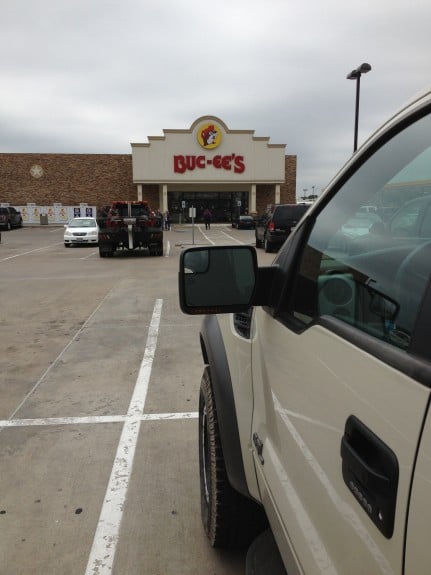 Driving the Raptor feels special. It surprises the driver in many ways. That surprise, combined with all of its capabilities, make the Raptor an excellent purchase for someone with the means who wants a great utility vehicle and can afford the fuel. Is it a work truck? No. On paper, does it now make sense? No.
But the fact that it does not make sense is the point of this truck. After the week was over we convinced ourselves that we would love to have one in our garage, fuel economy or not!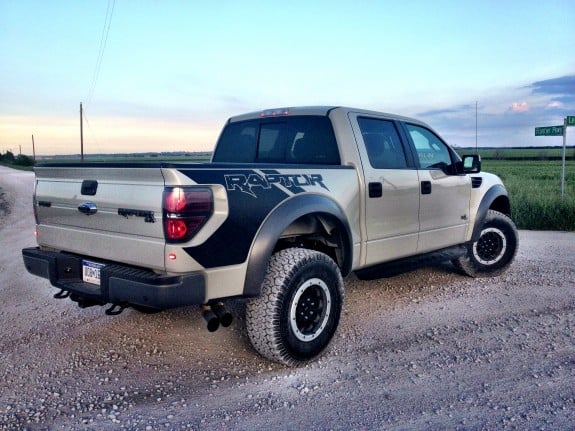 Note: Vehicle provided by the Ford Motor Company for review.

As an Amazon Associate I earn from qualifying purchases.