Review: Air Display For Mac Rocks!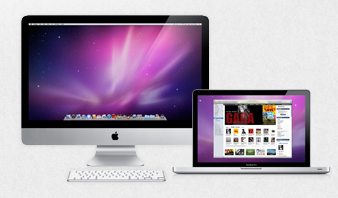 One of my favorite iPad apps is now available in Apple's Mac App store. Air Display is a utility that turns a Mac into a wireless display, which means your secondary computer doesn't have to go completely unused while you're at your desk.
I've used the iPad version of the app to turn my iPad into my secondary display from time to time, but the iPad's relatively low resolution limits the app's utility for me. The Mac version of Air Display is very easy to set up and works flawlessly in my tests so far.
Only a Mac can be used as a secondary display, but the host computer can be either a Mac or PC.
I recently purchased a new 13″ MacBook Pro and it's taken some patience to get used to its low resolution display (1280 x 800) since I typically buy machines with higher resolution displays. I remedied this problem by picking up a 27″ Apple Cinema Display (2560 x 1440) two days ago and have been very pleased with the dual-display setup.
But this left my desktop workstation asymmetrical. I downloaded the Air Display app from the Mac Store ($19.99) on my MacBook Pro and the Air Display utility on my MacBook Air. With both machines one my office network.
My main workspace is the Cinema Display. The MacBook Pro is to my right and I keep a few browser tabs open on it to read/send email and keep track of our site's statistics. On the left side is my MacBook Air with other stuff that I normally keep in the background. Switching to apps like Twitter or trying to find the right browser tab with Slacker can be a chore. Now I can actually see every app and browser window I'm working on. It's really liberating.
As it stands, I have 5366 horizontal pixels to work with. Air Display is a fantastic solution if you want to avoid buying a small external display or if one extra display just isn't enough for you.
There's no latency on the MacBook Air when I'm using most applications, but there is some stuttering when I try to play videos, but you'd probably watch videos on your primary display anyways.
More info and purchase link over at Avatron.com

As an Amazon Associate I earn from qualifying purchases.