Review: Apple Lightning to 30 Pin Adapter
Apple decided to make a big change to make its big phone (and other iDevices) a little smaller. Apple decided to retire the ubiquitous 30 pin adapter that has been connecting Apple devices to computers, docks, and other accessories for about 9 years or so.The new Lightning connector is smaller, which allows for different tolerances when building things like iPhones and iPod Touches, and presumably some sort of iPad Mini, as well as other gadgets in Apple's iLineup.
The potential problem here is for those who have a substantial investment in iDevice accessories like docks, sound systems, other connectors, etc… Sure there was some noise made about the potential obsoleting of those accessories, but Apple is providing a range of adapters to hopefully ease the transition to what we can hope will be a few years of accumulating Lightning Connectors. One of those adapters is the Lightning to 30 Pin Adapter which recently started shipping. It retails for $29.00 currently only at Apple. My adapter just arrived yesterday and of course I wanted to check it out.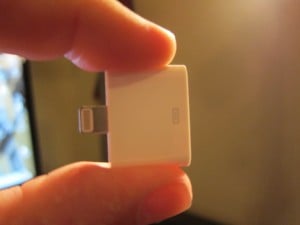 First up, this thing is small. For some reason I thought it be akin to the Camera Kit accessories that Apple made available but it is considerably smaller. Next, light the Lightning to USB connector that comes with the iPhone 5, it fits very snuggly into the iPhone 5. Almost too snug if you ask me. Taking it out feels like you might break something. You can plug it in either way, which is a feature in the new age of Lightning Connectors.
I don't own a lot of iDevice accessories but there was one I was very interested in trying out and that's the Withings Blood Pressure Monitor. I use this to monitor my blood pressure. I had read this TUAW report that some users were having compatibility issues with the new adapter didn't work with the Withings Cuff, but I can report that in my instance all worked as advertised. (Note that the TUAW report has been updated as well.)
I have a music dock from Altec hanging around that I really don't use anymore. So, I plugged the iPhone 5 with the adapter in to give that a try. Everything worked as expected. Obviously things look a bit weird when plugged in this way.
One downside that I've noticed, at least in my usage, the design of the adapter means that there will be many iPhone 5 cases that have to be removed to plug it in. The case manufacturer would have to design an opening wide enough for the adapter to fit flush against the bottom of the iPhone 5. I think that would interfere, in most situations with openings for the iPhone 5 speakers. So, know if you're going to use this adapter you will need to remove the majority of cases.
Apple is making an adapter with a cable that might suit this situation better, but I don't have one of those at my disposal. That cable will retail for $39.00.
So, there you have it. A quick review of the Lightning to 30 Pin Adapter. I can't vouch for every accessory out there, but at least for the two I tested things seem to be working just fine.

As an Amazon Associate I earn from qualifying purchases.